Bullet Journal is amazing tool to organize your thoughts, your tasks and your days, reflect on your feelings and record your memories, but when you just beginning, managing your Bullet Journal can be intimidating – the are symbols and spreads and rapid logging, and seeing the myriads of highly complex and artistic journals on social media just doesn't help.
It doesn't have to be that way, though. Bullet Journal's idea is to simplify your life not complicate it. There are ways to get into the bullet journaling without adding another complex task to your day. Simple, beginner-friendly ideas will ease you into the practice and make it enjoyable.
1 || Record only daily tasks and notes
As simple as the Bullet Journal system is, it still has a number of parts that are unique to it and the learning curve can prevent you from starting.
So, instead of drawing and writing up all the spreads and collections this system has to offer, start with doing just 1 thing every day – your daily pages.
Just write a date and the day of the week on the page and write down some tasks you wanted to do.
Put a bullet dot in front of them when you write them down and cross that dot when you are done. If you have any thoughts or want to note something that day, put a dash and write a note in front.
That's it! Do that every day until it becomes part of your day.
2 || Choose just 2 colors to embellish your journal
When you see gorgeous, elaborate Bullet Journals on social media, you feel like you have to be an artist to even approach that dot grid notebook.
That's totally not true.
Ryder Carroll who created the Bullet Journal has a journal that is black and white with no art or embellishments.
Bullet journal was meant to be as simple or as complex as you want it to be. So, if you don't want your journal to be just black and white, but you also don't feel adventurous enough to decorate it to the gills, start the easy way.
Pick two, just two complementing colors and begin to use those on your pages.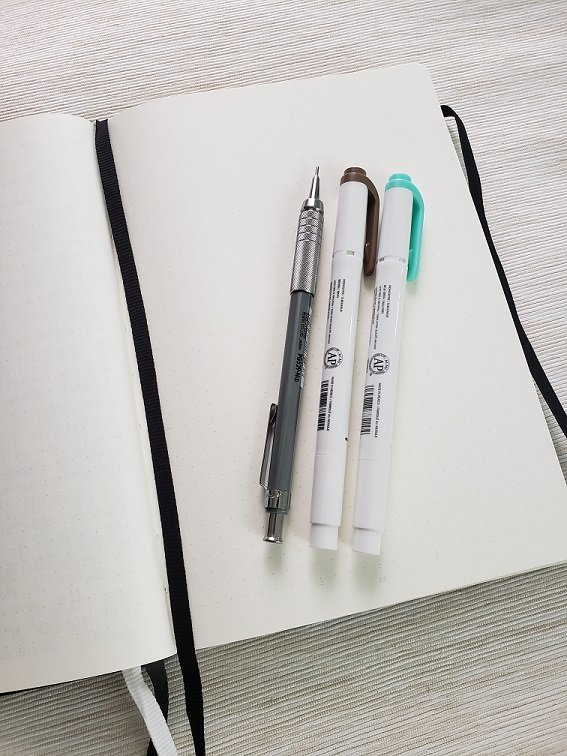 Pick two highlighters, two markers, two pencils or two felt-tip pens in colors that go well with each other and use them to give a bit of oomph to your journal.
Use one of the colors one week, then another color another week, or use both together.
Do simple things like underlining your date, with a straight, wavy or dashed line.
Doodle a simple arrow, or snowflake, star or a daisy.
Use a ruler to draw a vertical or horizontal like in your color of choice on the side or the bottom of the page.
Circle or highlight the page number on the bottom.
These simple hints of color will add some interest to your pages and make you comfortable to start doodling or decorating more over time and make your bullet journaling fun.
3 || Break your journaling into morning and evening sessions
If you feel like recording all your daily tasks and thoughts at once is a bit too much, split your journaling in morning and evening session.
In the morning, sit down for 5 minutes, write down the date and day of the week and tasks you want to do today or appointments you might have.
Then, at night, sit down and look through your tasks, cross out the ones you completed, add any other tasks you did that weren't on the list (come on, you know how satisfying it is to cross out those things!).
Then, at the bottom of that day, add some notes reflecting on your day.
They don't have to be elaborate or profound. They can be things like: "It rained the whole day today. The air was cold and fresh" or "If felt good to get so many things done, I think I'm getting the hand of this" or "Sometimes doing nothing the whole day is the best self-care".
4 || Plan your meals in advance
By the time the evening comes around, we are tired and exhausted and the last thing we want to do is to come up with exciting ideas for dinner.
As a result, we grab something boring (and sometimes unhealthy) and promise ourselves to do better next time.
The way to keep this promise to yourself, is to plan your dinners in advance.
And I'm not talking about planning a week worth of meals – that's overwhelming and then something always comes up.
Instead, in the morning, plan just that day's dinner. When we wake up, our brains are still fresh and we have some room for creative ideas, so why not use it to your advantage.
Think of what you already have on hand, pick a carb, protein and veggie and see if you can have 3 or more colors on your plate.
See what you can cook from dry, canned, frozen or fresh items in your kitchen.
Pre-planning your dinner in the morning saves you from having to make that decision at night, and you will thank yourself for that.
5 || Track your water
If you have looked into Bullet Journals even for five minutes, you have seen trackers for everything under the sun.
Some of these trackers are really elaborate and are more art than tracking. We are not talking about them here, you can take on them sometime later.
Here, I just want to offer you a simple idea of tracking your daily water intake.
We are all short on drinking water in our busy days and a water tracker is super simple to add to your BuJo. The water tracking doesn't have to be anything crazy either.
You can start as simple as adding hash marks next your date in the daily record for every glass of water you drank (you can even use a blue marker or pen to do it).
If this seems boring, you can add a doodle of a drop of water for every glass, or a doodle of a glass itself.
You can also draw 8 empty squares and color them in as you drink your water.
You can even try each of these every day for some variety.
If you are adventurous and want to centralize your water tracking, you can dedicate a blank page in your Bullet Journal to just water and this way you can see every day, week and month side by side.
6 || Write down how many steps you walked each day
Right there with the water tracking, noting down the steps you walked every day can be a good idea for your first BuJo ventures.
Walking is good for your body and your mind (and all those cool ideas that pop into your head when you are on a walk!).
You hear all about 10,000 steps a day, but you don't have to start it all at once. Just start walking and build your habit up to that number.
Recording the steps you did manage to do that day can show you how you are doing with your new walking habit and make you feel good seeing all those steps you made.
Just like with water, you can jot down the number of steps you walked next to the date at the end of the day, or as a note at the bottom of that day.
You can draw a little box somewhere in your daily record and write the number of steps in there so they stand out.
You can have a separate page for your steps where you can draw a bar with a square colored in for each 1K steps you made. This way you can see how your step bars compare day to day.
Competing with yourself is always a good motivation to get that habit going and to make more of it.
7 || Note the books you have read
Reading books for fun and learning is an excellent idea to keep your mind challenged and to grow as a person.
Some people set a goal of 52 books in 52 weeks every year. As great as that sounds, you don't have to read that many books if you are short on time, but fitting even a page or two a day is amazing.
To keep track of the books you have, create a book page in your Bullet Journal.
It doesn't have to be anything elaborate – you don't even need to draw all those blank book doodles to write the titles in you see on Instagram.
For every book you read, just write the title, the name of the author, a sentence on what the book was about and how you liked it.
If you want to add in if it was a paper, e-book or audio book, you can add that. If you want to note that it was a library, friend borrow or something that you own, you can jot that.
You can note how much you liked the book with stars, or exclamation marks, hearts or a number (out of 5 or 10, for example). If you are a book re-reader like me, you can even mark how many times you have read it.
8 || Use stickers and washi tape to decorate
Once you get the hang of your daily entries in black and white or even with some marker highlights and you want to make your BuJo even prettier but don't want to get into the whole calligraphy, brush pens or water colors, you can decorate your Bullet Journal with premade supplies like stickers and washi tapes.
Both of these are available from a myriad of places like Michaels, Staples, Etsy, eBay, Amazon and private sellers and come in an amazing variety of themes and colors.
If you want to decorate your whole month of February in hearts and cherubs, there are plenty of sticker sets for that.
If you want your October to be covered in pumpkins, PSLs, ghosts and fall leaves, you can find all of that and more.
You can find stickers for decorating purposes but also stickers of habit trackers or month titles, stickers of borders and flowers and winter or summer-related doodles.
Washi tapes, a paper-quality decorative tapes that come in different colors, designs, width and textures, can be found all over the place and can make great embellishments for your journal pages.
Washi tape can create a border or outline an area or a box on the page. You can use washi on the edge of the page to mark the beginning of each month for an easy location.
You can even create tabs out of washi tape and write down the title of the tab on it.
Since you can write on the washi tape, you can use them for month titles (instead of using a marker or a highlighter).
You can also use washi to tape things like photos or movie tickets or fold out pages down.
9 || Use Bullet Journal starter kits to set up your journal
If you don't feel like your drawing skills are all that great or you are afraid to mess up those few first pages of the Bullet Journal (pages like Key, Index, Monthly or Weekly) you can get around that fear by getting Bullet Journal starter kits.
Bullet Journal Start Kits have all the main spreads predesigned in them, all in the same font and style, all you have to do is peel and stick.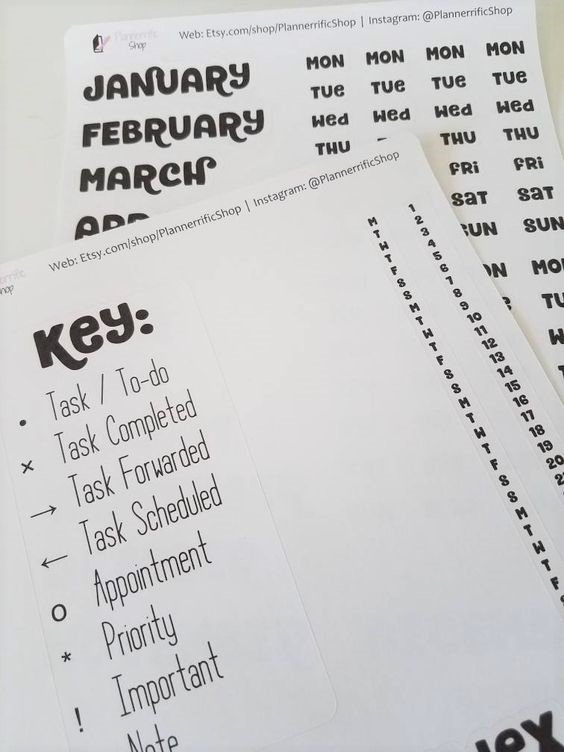 A starter kit like that would have things like Key page with title and symbols, titles for every month of the year, stickers for year numbers, vertical stickers for every month listing dates and days of the week (that are used in the Future Log), separate stickers with days of the week titles you can use on the weekly or daily pages and so on.
Once you have all the bases covered, you can also get stickers for water tracker, mood tracker, budget tracker and so on.
10 || Start with an inexpensive notebook
Part of the beginner BuJo trepidations is starting a new BuJo notebook and messing it up. I get it. As a recovering perfectionist, I can relate with not wanting to mess up a perfectly clean brand new notebook, especially if I just paid $20+ for it.
A solution? Get a trial notebook!
There are a plenty of inexpensive dot-grid notebooks you can get from $5-8 each that you can learn your bullet journaling in.
With that pressure off, you can start, mess up, redo, start again as many times as you want without all the guilt and pressure.
Even more, you don't even need to start with a new notebook, or a dot grid notebook at that! You can grab an old, half-used notebook you already have and practice your daily entries in there.
Work out what trackers and spreads you like or want to have, design them and use them to your heart's content and, when you got your system down, move to a brand new Bullet Journal brand notebook with no fear.
11 || Use a pencil to write in your Bullet Journal
Another way of dealing with the beginner's fear of a new BuJo is to write in your journal with a pencil.
That is what I did for the first year of my journaling practice (BuJo and otherwise). Knowing that I can erase and correct my notes, drawings and Bullet Journal spreads because I was using a pencil, helped me tremendously! I felt less pressure to write a title of the page, or to draw a straight line or put a wrong bullet symbol in front of the list item.
With my trusty drafting pencil and a good eraser in hand, I felt like I can really do this Bullet Journal thing and I think you will as well.
You can combine this tip and the tip above to totally remove any fears and doubts out of your journaling practice, focusing on building that habit rather than how perfect or neat your pages look.
12 || Use templates and stencils to organize your Bullet Journal
Along with convenient starter kits, stickers and washi tapes, templates and stencils make organizing your Bullet Journal a breeze.
Be it budget balancing, meal planning, tracking your project hours or noting your fertility window, there are pre-designed templates available that you can use in your Bullet Journal pages.
You can get the templates as stickers or printable pages you can glue into your journal, or after a while, you can adopt and draw your own version of them by hand.
Having these as beginning building blocks of your Bullet Journal is a fantastic idea as they show you the way and lessen your level of uncertainty.
In addition to templates, stencils are a great idea as well. From the whole set of stencil rulers that have lines, borders, doodle and symbol cutouts in them, to letter stencils to banners to days of the week and so on, stencils can make your BuJo look like you have taken art and calligraphy classes, but all you have to do is trace and color in.
These pre-designed solutions can help you feel more accomplished about the look of your journal without the fear of messing up or feeling of not being artsy enough.
As you can see, bullet journaling doesn't have to be complicated or overwhelming. By using beginner ideas above, you can start incorporating Bullet Journal into your day to help you track your habits, organize your day and be mindful of how you spend your time.
Recent Posts