There is no question, the quality of the pen makes a huge difference in journaling. No one likes a scratchy pen that drags across the page, ink barely coming out or coming out in patches or leaks and gets all over your hands. For me, a nice pen always made the process of journaling enjoyable, something to look forward to.
We are lucky in that there are so many kinds of pens to choose from out there: ball-point pens, roller-ball pens, fountain pens, felt-tip pens, even fine markers and pencils! The technology of writing instruments has really flourished in the recent years and there are now pens for every taste and preference out there.
I, like any other journaler, love to go Staples, Michaels, Barnes and Noble or any other store carrying notebooks and pens and leave with yet another pen I want to try. There truly no such thing as too many pens. But, in the end, I have settle with a handful of writing instruments that I love and use daily and I want to share them with you.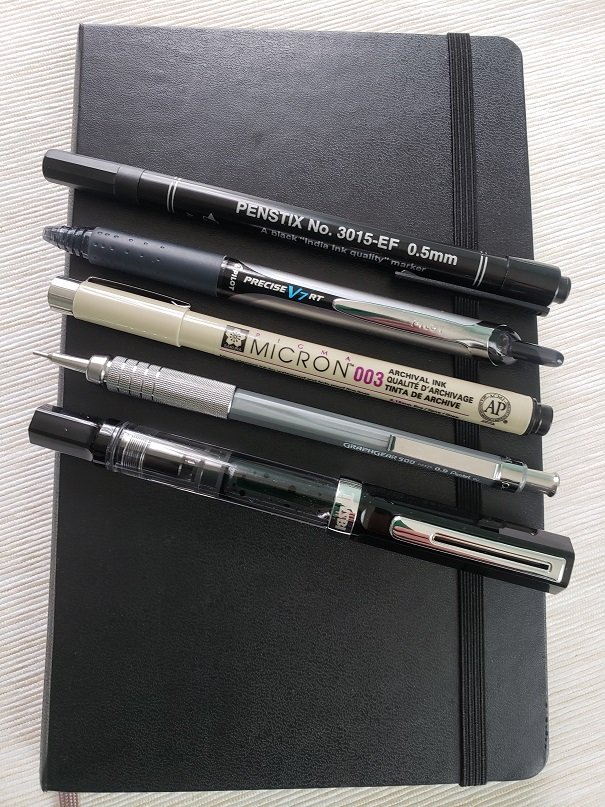 Favorite Ball-Point Pen: Paper Mate InkJoy 300RT
My favorite ballpoint pen is Paper Mate InkJoy 300RT. The one I love using is Medium in black ink since I love the simplicity of black and white journal, and a black ink is easier to find match to when it runs out than blue or other colors.
Paper Mate InkJoy is a smooth pen that glides across the page with ease, leaving behind the lines that are even, consistent, with no blotches. Even though I use the Medium size, it's thin enough to create the letters that are readable even if I write small and the writing comes out clean.
I've tried many ballpoint pens before this one, I really like Uni-ball Jetstream (ah, so smooth!)
Favorite Rollerball Pen: Pilot Precise V5 RT
Pilot Precise V5 RT is hands down my favorite rollerball pen. It creates nice dark lines, it's smooth with ink coming out at just the right pace. It is a rollerball pen so you need to watch out for the freshly written ink but it does dry up pretty fast.
One thing I always iffy about when it came to rollerball pens is that they were either too runny and smudge on my hand, or too scratchy if I went for a fine size trying to avoid the leaky issues.
Pilot Precise V5 RT is great on both of those ends. It writes super smoothly without leaking the ink. I really enjoy mine in black ink and I can count on it to create the writing that stands out, nice and clear.
Favorite Fountain Pen: TWSBY Eco
I have several fountain pens (of course!). Out of the Pilot MR Retro Pop with fine nib, Pilot Metropolitan with medium and TWSBY Eco with a medium nib, I like TWSBY the most.
When I was young, I wrote with a fountain pen for 10 years of my school life and the pen I used had a medium nib and it just stuck with me. Yes, the letters come out pretty thick, but I like it, I'm not a fan of fine nibs where the pen gets too scratchy because I write fast in medium to large letters.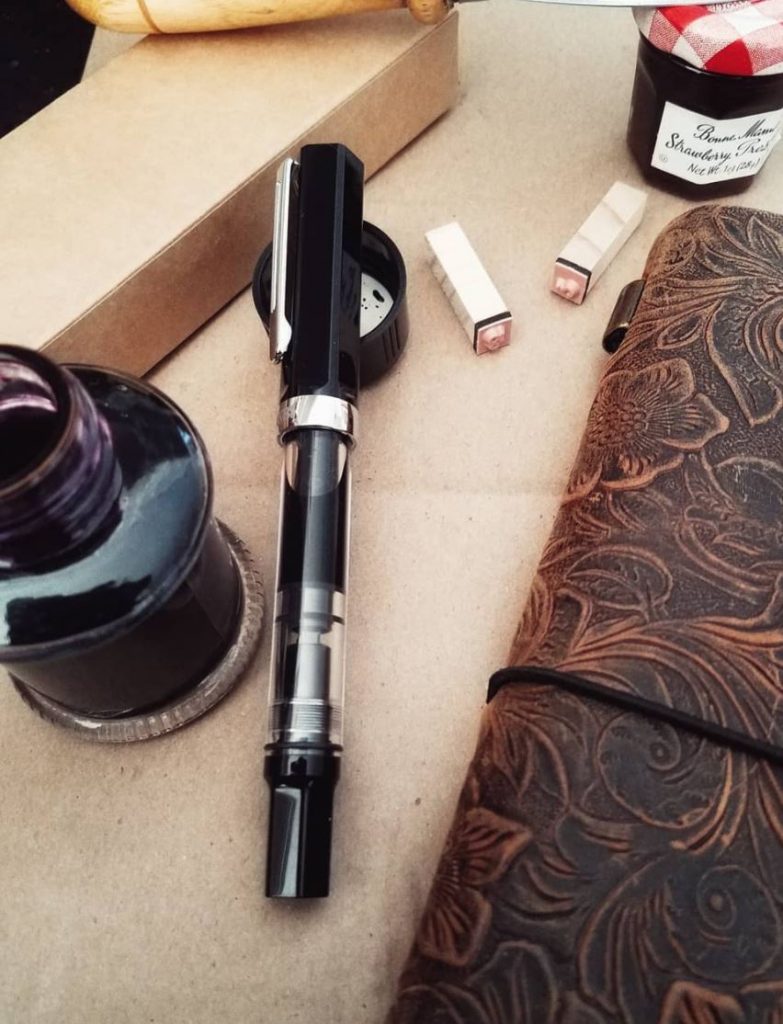 TWSBY Eco is so perfect for my every day writing. It's perfect for writing slowly, calligraphy style, but also perfect when I need to write fast. And, of course, because it is a fountain pen, it gives your hand just the right position to practice those pretty letters.
Favorite Felt-tip Pen: Stabilo Fineliner
When it comes to felt-tip pens, there are a lot of really great ones. The beauty of a felt-tip pen is that it gives you smoothness and dark solid lines without ink smudging. Of course, they are not for everyone since they do tent to run wide and might bleed through paper if you press them too hard.
Still, felt-tip pens are wonderful, especially for embellishing your writing, for creating pretty doodles without being intimidated by all the brush-pen markers.
After trying several popular brands of felt-tip pens, I really stuck with and love and use daily Stabilo Fineliner. I have a set in a variety of colors and I love how fine the lines are while gliding really smoothly across the page.
Stabilo Fineliner makes me comfortable with bringing some color into my black and white journal and it's a really great pen to write with as well.
Favorite Marker Pen: ALVIN Penstix
When my journal calls for some standout letters, thicker lines and darker writing, I turn to ALVIN Penstix markers. I have them in 0.5mm and 0.7mm. I use thicker 0.7mm for my monthly titles and 0.5mm for my weekly and daily ones.
Penstix deliver great consistent writing, smooth gliding and dark lines. Writing with Penstix feels great and I never worry about any smudges.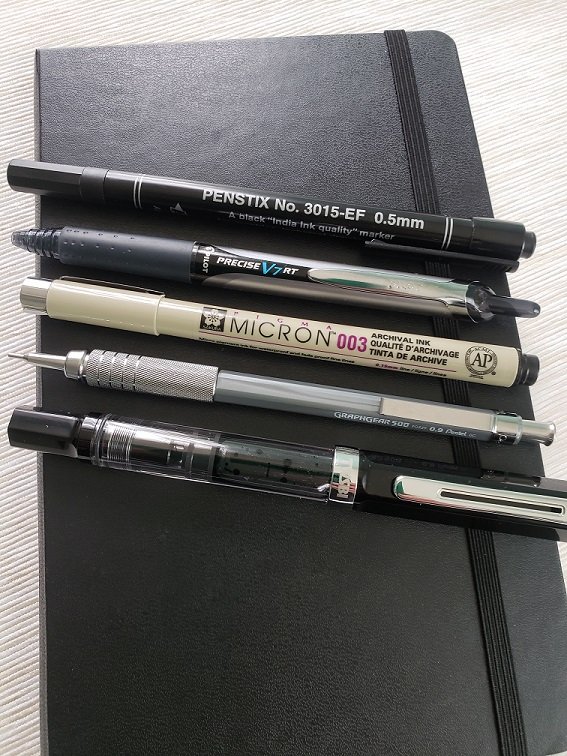 Penstix come in other thicknesses if you want to go finer (0.3mm).
These markers are technical grade and are used by professionals. They will serve you well.
Favorite Pencil: Pentel GraphGear 500
To be honest, I used to really dislike pencils. They need to be sharpened and they make a scratchy noise when dragged across the paper that made my skin scroll. And as much as pencil are great because they are erasable, I couldn't get past the sound they were making.
Until I came across Pentel GraphGear 500 pencil. It's a professional grade drafting pencil and the one I stumbled upon was in 0.9mm and that made a huge difference for me.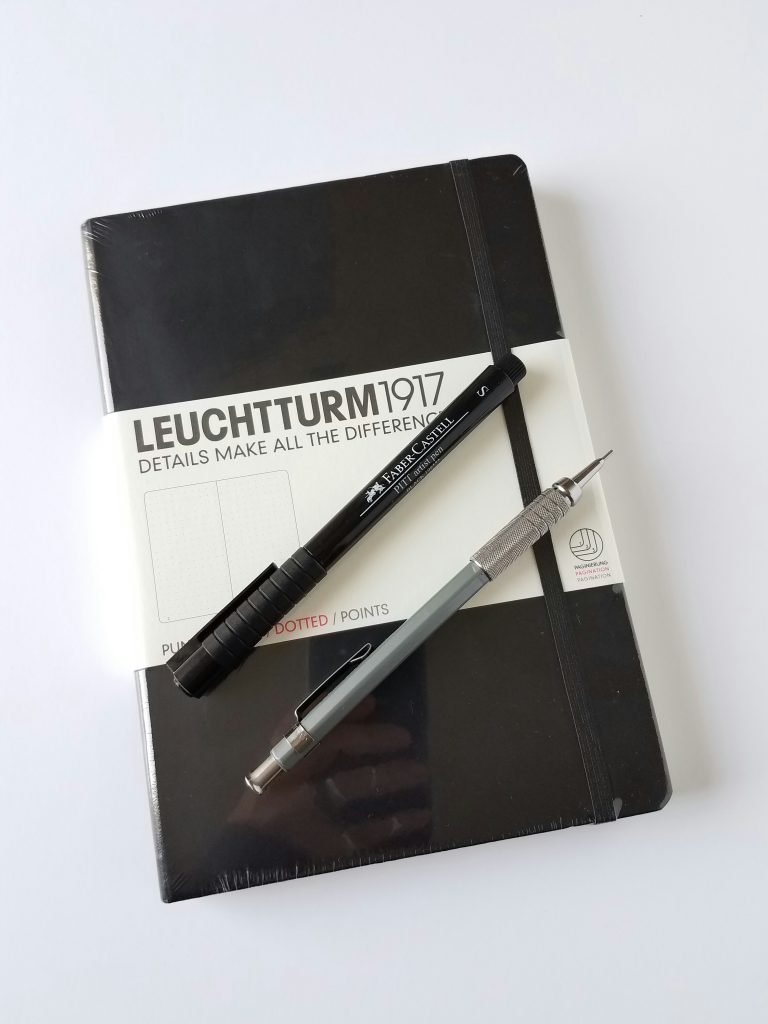 Because this mechanical pencil uses such a thick lead, it is smooth and creamy. Even though it's the same graphite that most of the pencils are made of, the size and the hardness degree of the lead makes it as smooth as a pen and a real joy to write with.
I use GraphGear pencil to take notes when I'm in a meeting or taking classes because I can erase and correct with ease. I also love this pencil to journal with because all the intimidation of making an error is gone – I can erase all the imperfections.
It is also perfect for drawing all the lines and boxes in your Bullet Journal, after all, it is a drafting pencil.
Favorite Marker: Zebra Midliner Double Ended
I love Zebra as a brand – from their ball point pens to markers and Midliners with their Mild Ink are my favorite. These markers are perfect to embellish your regular and bullet journals.
The Zebra Midliner makers are double ended with a chisel end on one side and a fine tip on another, giving you two markers in one. The beauty of the mild ink is that you can make your colors as light or as saturated as you want, just pass over a couple more times.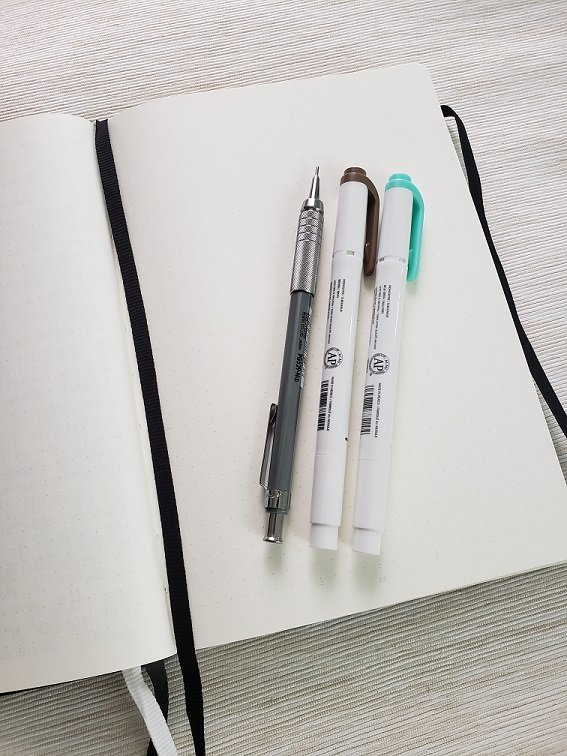 These markers are smooth and have wonderful colors that I love like Mild Blue Green and Mild Brown (very beachy looking combo). Midliner markers come in pastels and other gentle colors that compliment your journal writing, not overpower it.
Favorite Highlighter: Stabilo Boss
If you are into quick décor and wide lines, Stabil Boss highlighters are the things! I love how chunky and short they are – giving me total high school vibes! The will fit into any to-go pencil case and give you a wide a quick highlight line to make your journal look pretty with a swipe of a hand.
Stabilo Boss highlighters come in pastels and in original, juicier colors, usually in set of 5-7 markers, but you can buy them individually too. That's what I did, getting one in a fresh minty Touch of Turquoise color.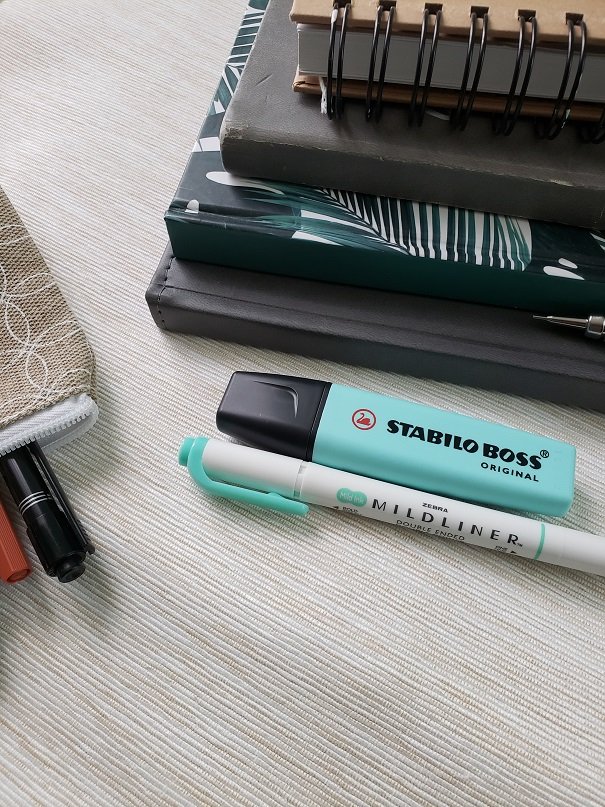 The pastel shades of Stabilo Boss go great with pastels of the Zebra Midliner markers – don't you love when your markers play nice with each other?
There are so many wonderful companies making amazing writing instruments and new ones get added every day. The ones above are my favorite and I hope you will like them too.