The best thing about Traveler's Notebook (TN) it is flexibility and interchangeability of its many add-ons and accessories. The accessories make Traveler's Notebook the amazing customizable journal that it is.
You can find an incredible variety of inserts, add-ons and accessories to make your Traveler's Notebook exactly what you need it to be, meet your every requirement and turn your TN into an ultimate tool for your everyday life.
The add-ons and accessories fit for Traveler's Journal come from the Traveler's Company itself as well as from third parties that are trying to expand on the existing functionality and to satisfy ever-growing needs and ideas from TN community.
Here is the ultimate guide for all the accessories that are made for Traveler's Journal and available from the Traveler's Company and from third-party creators and stores.
Traveler's Notebook add-ons and accessories from Traveler's Company
Travelers Company (formerly an arm of Midori) is focused on providing an amazing tool that it Traveler's Notebook and they understand that what makes TN so flexible and versatile are its add-ons and accessories.
Here are a variety of accessories that are available straight from Traveler's Company or its resellers.
TRAVELERS NOTEBOOK INSERTS
Plain/Blank notebook inserts
Traveler's Notebook is made out of a leather cover that has elastic bands that hold various inserts that can be interchanged for each other or replaced as they are getting used up.
Plain notebook inserts are the most basic of inserts, suitable for any type of use. It can be used for journaling, planning, drawing, etc. You can draw up your own boxes and lines on this open canvas and make them what they need to be.
These inserts are made of a cream paper sewn in between sturdy brown paper covers. Each plan notebook insert holds 32 sheets.
Dotted notebook inserts
Dotted inserts for Traveler's Notebook are perfect for those who want some structure on their pages but not as rigid as lines or graph paper.
Dot grid give you visual direction if you want to write horizontally or vertically, or if you want to draw or practice calligraphy. And of course, the dot grid inserts are perfect for those who want turn their Traveler's Notebooks into bullet journal or add a BuJo functionality to the part of the TN's set up.
These inserts are made of a cream dotted paper sewn in between sturdy brown paper covers. Each dot grid notebook insert holds 32 sheets.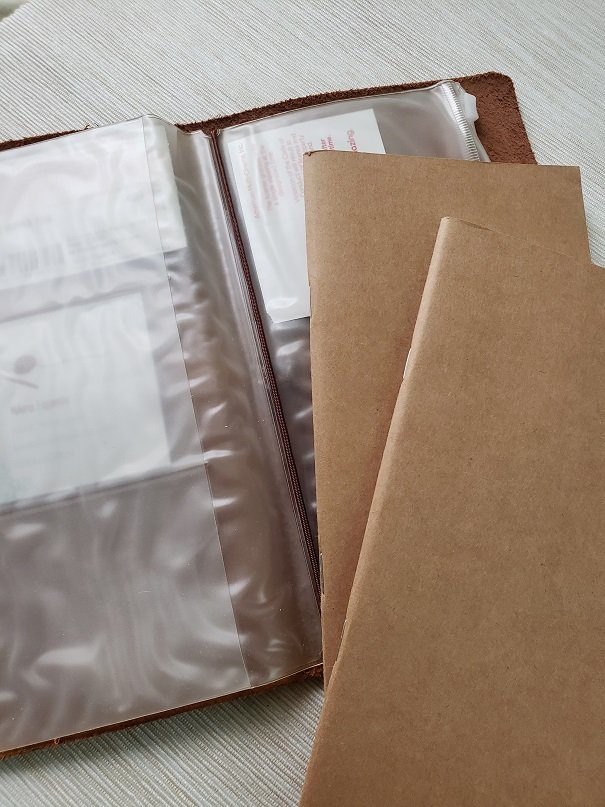 Lined notebook inserts
Lined inserts for Traveler's Notebook are great for any kind of writing – journaling, note taking, list making, recipe listing.
Classic and simple, the lined pages are just like your lined journal pages. If you want to add journaling capability to your TN, these lined notebooks are great.
These inserts are made of a cream lined paper sewn in between sturdy brown paper covers. Each lined notebook insert holds 32 sheets.
Graph/Grid notebook inserts
If you are a math nerd like me, you will love graph paper inserts for Traveler's Notebook.
The graph or squared paper is perfect if you are taking any kind of science class, but also if you love drawing lots of boxes and lines on your pages.
It's super helpful if you are doing things like floorplans, patterns (knit, crochet or sewing), book layout ideas, garden layout ideas and so on. Anywhere you need a measured out structure – the graph paper inserts will serve you well.
These inserts are made of a cream squared paper sewn in between sturdy brown paper covers. Each graph paper notebook insert holds 32 sheets.
Kraft paper notebook inserts
Kraft paper inserts are similar to plain paper inserts is that the pages of these inserts are plain, but the paper they are made of is the brown paper, the type you see used to wrap things in stores.
Even though you can use these inserts in the same way you can use the plain paper ones, the brown paper color gives it more character and makes it an perfect backdrop for your decorated page.
Use these notebooks to hold your photos, tickets, stickers and other beautifully embellished stories of your travels. The brown paper will make them all really stand out and it's great for using white-based gel pens or for scrapbooking.
These inserts are made of a brown plain paper sewn in between sturdy brown paper covers. Each kraft paper notebook insert holds 32 sheets.
Undated calendar (Monthly Planner)
What a good traveling and planning journal be without a calendar?
Traveler's Company offers a Monthly Planner – an undated calendar insert for TN. No months or dates or days of the week are printed in there so it's totally customizable to your need and can be started on any day of any week.
It gives you space for 14 months with a yearly view in the beginning of the notebook. Just like most of the inserts, this one is made of cream paper sewn in between sturdy brown paper covers.
Each plan notebook insert holds 32 sheets.
Weekly Planner (Horizontal)
If you need a more detailed look into your schedule, Traveler's Company also offers a Weekly Planner. Similar to the Monthly Planner, it's undated allowing you freedom of when to start using this insert.
It is designed in a way where your days of the week are on the left page of each spread, divided into horizontal sections for each day, and a blank graph paper page on the right side of each spread to give you room to jot down additional things and ideas.
This planner is great if your days are not structured, but you like to keep track of what's going on every day. It has 6 months' worth of planner pages with the monthly view at the beginning of the notebook.
Just like most of the inserts, this one is made of cream paper sewn in between sturdy brown paper covers. Each plan notebook insert holds 32 sheets.
Weekly Planner (Vertical)
Aaaand because Traveler's Company is so awesome and truly tries to accommodate everyone's taste, it created a Weekly Planner in a Vertical layout as well.
Gridded with lines going up and down, with days of the week names at the top of the page and the time stamps running the length of each day.
This layout is perfect if you have a lot of appointments to keep track of or if you time-block your day. It has 6 months' worth of planner pages with the monthly view at the beginning of the notebook.
Just like most of the inserts, this one is made of cream paper sewn in between sturdy brown paper covers. Each planner notebook insert holds 32 sheets.
Daily Planner (Vertical)
If your days are super busy and packed to the brim and you need to keep detailed notes throughout, consider getting a Daily Planner insert for your Traveler's Notebook.
This planner dedicates a whole page to each day. The pages are made with graph paper to give you structure for your notes, appointments, time-blocking, whatever you want to turn them into.
Pages are numbered with the date, but you fill in what day of the week and what month it is, making them flexible to use. These planners offer you 2 months of daily planning with the monthly view at the beginning of the notebook.
Just like most of the inserts, this one is made of cream paper sewn in between sturdy brown paper covers. Each planner notebook insert holds 32 sheets.
OTHER TRAVELER'S NOTEBOOK ACCESSORIES
Vinyl business card/zipped pouch
Traveler's Notebook is design to hold your life between its leather covers. How about all those receipts, tickets and business cards that fill up our pockets, purses and wallets? Travelers Company got you!
A vinyl business card and zipped pouch combo is just the thing you need to hold your paper incidentals that are small but very important. This is an insert that can go between your leather cover and the rest of the notebook inserts.
On one side it has 3 spaces sized to hold a business card, but you can use them to hold credit cards, ticket stabs, cookie fortunes, passport-sized phots, stamps, and so on. On the other side of this insert is a zipped pouch. It is almost as large as one side of the TN cover so you can fit large things in there like receipts, checks, tickets, coupons, larger photos, and so on.
This insert is excellent especially if you use your TN for your shopping or budgeting and general household maintenance. It's made out of clear vinyl so you can see what you have inside.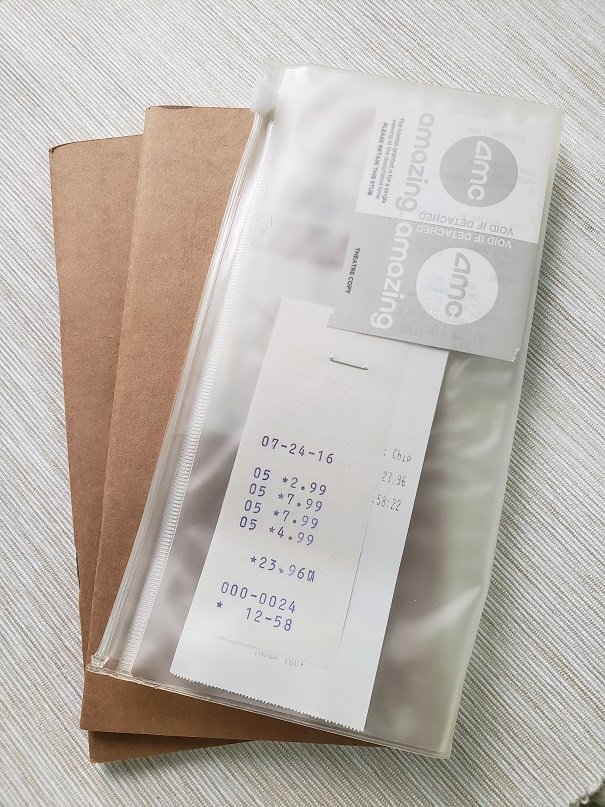 Kraft File Folder inserts (with an envelope and without)
If you want an additional storage in your TN but want to stick with the rustic brown paper look, you can get Kraft File Folder inserts.
Made of the sturdy kraft brown paper, they slide between the leather cover and the rest of your notebook inserts and offer storage for things like credit cards, business cards, tickets, receipts, etc.
These folders come in a design that includes a closeable envelope on one side, and one without it.
The full-size envelope is an excellent addition that offers a secure storage for something that you don't want to fall out – like stamps, cash, important receipts or photos.
Connecting bands
The standard Traveler's Notebook comes with two elastics that allow you to add 2 notebook inserts inside the TN.
If you need to add more than two inserts, you can get a set of connecting bands.
By connecting the inserts between themselves with the connecting bands and then inserting them under the elastic bands, you can add at least 2 more inserts into your TN making it that much more useful.
TN Repair Kit
Along the same lines as the replacement elastics above, you can also get a complete TN Repair Kit. This set has everything you need to take care of your Traveler's journal. It comes with:
Eight elastic bands to replace or add to the ones your TN already has. The are all different colors to suit your taste or add some flair to your notebook
Two pagemarkers – your TN comes with one just like that, a string that you can use to keep the place in your notebook
One metal bead to hide the knots on the elastic and hold the pagemarker
Pocket Sticker
For an instant additional storage without an extra insert, go for Pocket Sticker accessory. These stickable pockets can be affixed to leather or paper and add an instant pocket where you need it.
They come in brown paper cardboard version and in clear plastic version.
You can get a single or a set, they stick on and stay on and big enough to hold things like business cards, tickets, receipts and so forth.
Brass Clip
One of the issues you might run into when using Traveler's Notebook is that it tends to close back up when you use it and refuses to lay flat.
To deal with that, the Traveler's Company offers large brass clip that you can use to clip the open notebook to the leather cover and keep it laying flat on the desk while you are writing in it.
The clip is pretty large and measure 1.7 inch by 1.7 inch and features Traveler's Company name on it's front. It's brass and takes on patina as you use it over time (the way your notebook does).
Brass number clips
Another offering in a brass clip family from the Traveler's Company are brass number clips. These adorable flat clips are designed to be clipped on the top of a page and mark its place.
Each has a number from 1 to 12 punched into its top, giving you a quick look at the importance of the page it's marking or perhaps the number of the month it's clipped to.
You would use these instead of page markers or month separators, it's up to you. They are made out of brass and will oxidize with time as you use them. Each set has 12 clips.
Pen Clip
If you carry your notebook everywhere you go, it's only logical you would carry the pen you write in it with your as well. It would be so convenient if your pen was always on hand when you are about to write.
The pen clip offered by Traveler' Company is the perfect accessory for your notebook and for your pen.
Made out of leather and metal, it is designed to clip on (rather than stick on) your notebook cover so you can easily move it into the spot you like and take it off if you don't want to use it.
Brass ruler
When you use your Traveler's Notebook for more than just writing and especially if you are into bullet journaling, you probably draw lines pretty regularly. And, if you are anything like me, you want these lines to be as straight and neat as possible.
What you need? A gorgeous brass ruler! And how cool that the Traveler's Company has one made in the same brass that its other accessories come in and would make a perfect match. It's 16 cm or 6.3 inches long and is designed in a metric system.
Template bookmarks
Another awesome accessory that is made for Traveler's Notebook are the template bookmarks.
These bookmarks are like a ruler, bookmark and a stencil all in one! There are two: alphabet one and a number (and symbol) one.
They are great if you want to have those three tools to use with your TN but don't want to carry all of them.
Midori stamp collection
And speaking about accessories to adorn the pages of your TN. This accessory is my most favorite one.
Paintable Midori Stamps are inkable stamps that offer different sets of words and images you can stamp on and then color in to make your Traveler's Notebook the prettiest it's been.
If all the journal art gives you the hives and you don't consider yourself an artist, fear no more – these stamps will add some serious flair to your notebook without you having to do any drawing. Just chose the design, stamp and you are ready to go.
These stamps have kitty designs, cute messages, motifs like banners and buntings, day of the week and weather, and others. There are 8 different stamps and each stamp has about dozen of designs.
---
Third-party accessories
As many awesome accessories as the Traveler's Company created for the TN, there is always room for more. Clever makers out there create awesome accessories that build on what's already out there but also add what's missing. Here are some of the Traveler's Notebook accessories you can get from third-party creators.
Bookmarks
The bookmark that comes with Traveler's Notebook is a simple string. As much as it might appeal to a minimalist, many want something more exciting, something pretty, clever or cute.
If you want to get your TN such a bookmark, you can find a ton of them on marketplaces like Etsy. From leather, to beads, to metal charms and figurines, there is no limit to human imagination.
Unlike the original bookmark that is tied at the top of the leather cover, many of these bookmarks are double length and are simply threaded through the elastic and provide you two bookmarks in one!
They are as simple as matching beads or leather knots on each end of the bookmark, and as elaborate as a different sets of trinkets, beads, figurines, and so forth on each end of the bookmark in matching colors and/or metals.
Because of the weight that these adornments create, the bookmarks stay in place, stretched taught rather than curling up or coming out the way a simple string might. They add a beauty and character to your journal and can be swapped out as often as your heart desires.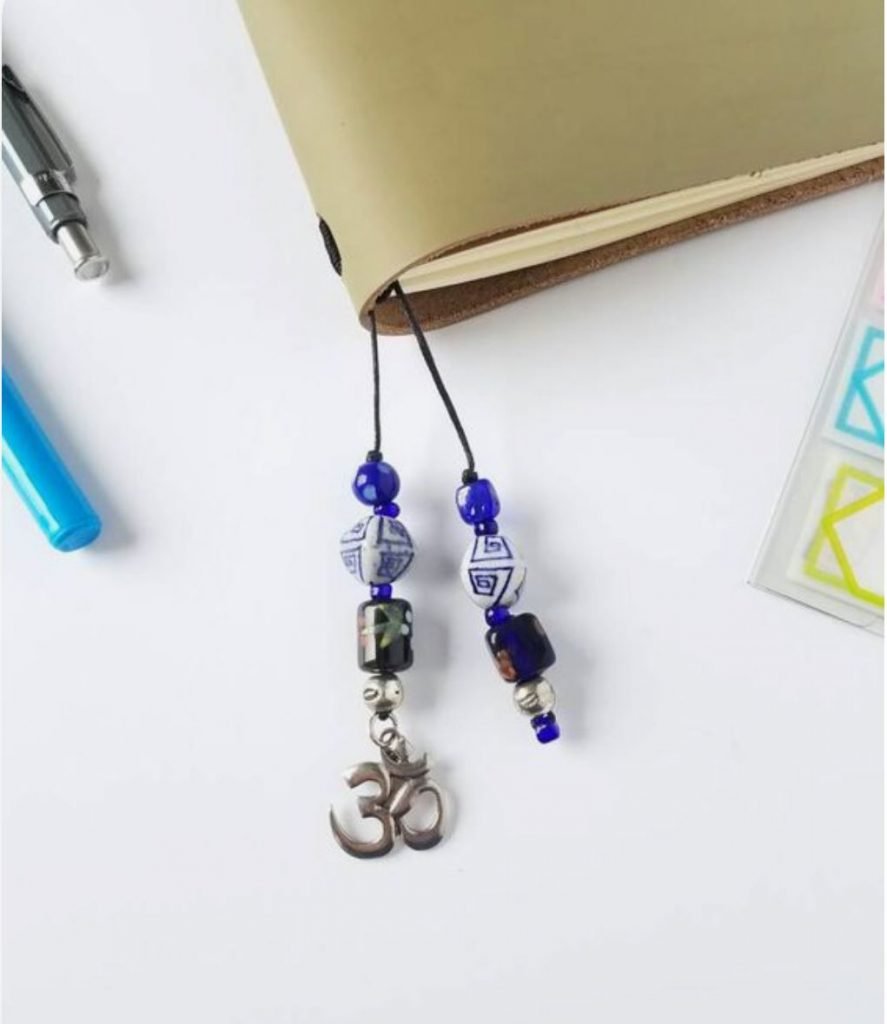 Printables
Just like when starting any new journal, starting a Traveler's Journal can be intimidating. All those fresh crisp inserts, new untouched notebook pages, unwritten on insert covers – it can be scary to write on them and, gasp, mess them up. It's even scarier when you want your TN to be a true traveler's journal in a scrapbook style or a bullet journal.
If you are afraid that your handwriting is not neat enough, or calligraphy is not your strongest suit or you simply don't know where to start, there is a solution for you! Traveler's Notebook printables!
These pre-designed layouts are perfect starters for your TN journey. From simple ones like days of the week or names of the months to gorgeous sets of borders, adornments, boxes, titles, calendars, to-do lists, budget sheets, travel lists and so much more that all match each other – you can buy them, print them and voila – in an instant your TN is a seen to behold.
There are even printables to create your own notebook inserts – just print, sew the pages together, trim to size and you are good to go.
Paper clips
Traveler's Company offers brass paper clips to mark the pages or two clip few pages together, but they might now be everyone's cup of tea.
There are so many adorable ways you can decorate a paperclip and use it to adorn your TN and the makers out there are doing just that.
You can find paper clips large and small, with bows, beads, enameled characters and charms. You can find paperclips that are rustic and minimalistic and paperclips that scream bubblegum pop.
Who said paper clips smelled like an office and had to be boring? Decorated custom paperclips can bring more functionality to your planner and make it pretty in the process.
Pocket inserts
Pocket inserts are an great way to add more storage to your Traveler's Notebook and make it a true command central of your life.
Even though there are zip pocket and cardboard pocket inserts that are offered by Traveler's Company, there are ways to add even more of that goodness.
Add-ons like sturdy fabric pockets with zippers and smaller compartments can handle to use and wear while securely holding all the important things like money, credit cards, ids, tags, tickets and more.
For example this Wallet Insert Pocket that you can find on Amazon is made out of sturdy fabric and can hold your credit cards and other plastics on one side and cash, photos, tickets and so on other side.
You can easily slide it behind your regular inserts and voila! And you can take it out and put it in your purse if you want to use it outside the TN:
Journal Stencils
In the same way you use the printables to adorn your Traveler's Notebook without a worry, you can also use stencils and stencil rulers to add details, lines, headers, titles, doodles, boxes and so on.
There are whole sets available that are very inexpensive and come with 12 different stencils that can pretty much guarantee that you will never need to worry about decorating your travelers notebook again.
In one of these sets you find names of the months, flowers, shapes, letters, banners and flags, fun words, borders, a ton of doodles of every kind, travel related images, days of the week and so on.
Pen holder clip
Pen holder clips might not be the most sexy exciting TN accessory, but it's very useful nonetheless. And even though Traveler's Company offers their own version of pen holder clips, you might want a bigger variety and different colors to shake things up.
You might want to have more then one for every favorite pen you have so you can just snap it on your notebook and go. You might want to have backup to the clips you already have. No problem!
You can find a create number of useful and well designed pen holder clips on places like Amazon and Etsy. Leather and fabric, metal and vinyl, there are many different kinds of pen paper clips for every taste and need.
For more accessories see:
Traveler's Notebook Accessories from Tokyo Pen Shop
TN Accessories from Baum-Kuchen
Traveler's Notebook Accessories from JetPens
Recent Posts