Journaling has many expressions and the art journaling is one of the prettiest and most creative ones of them. Mixed media art journaling is a fun, experimental and totally free-spirited. What is mixed media art journaling is all about?
Mixed Media Art Journaling is a type of art journaling that uses various types of art supplies in the same artwork to create artistic expressions of a journaler. Mixed media art journals can have daily entries that combine water color, washi tape, glitter, chalk, drawings made with fine tip markers and calligraphy written with a fountain pen.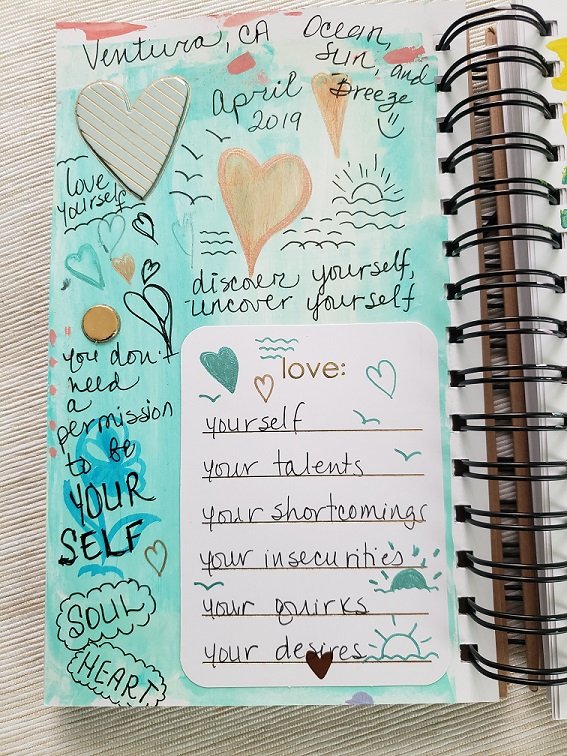 Now that you have a general idea of this type of art journaling, lets see what you can use to create mixed media art journals and get some ideas of what you can have in your journal.
Since the art journals are creative expressions, there are no rules on what can or cannot be in an art journal. An art journal can be all pencil doodles or full-color watercolor paintings spanning full spreads.
Art journals can be used to express yourself artistically daily or be dedicated to a specific thing, like 100 days of flowers, or daily charcoal practice. They can reflect the daily life or a continuous practice of a certain skill.
How do you describe mixed media in art?
Mixed media is a use of different kinds of art supplies like paints, inks, chalks, fabrics, paper, glitter, tapes and even rhinestones to create one of a kind art piece.
Mixed media takes advantage of different textures, opacity and saturation that various art media offer to make something really unique and engaging.
It makes the flat art more 3D and brings out the best in each art form.
How do you write a mixed media art journal?
In comparison to a regular journal, 'writing' in a mixed media art journal involves more of sketching, drawing, painting, gluing and other art-driven expression, than writing actual words.
Still, if you choose, you can write in your journal as well. Using fountain pens or marker, you can write your titles or thoughts or comments over the art you have created, especially spots where you have light-color watercolors or where you choose to leave the paper blank.
You can also use white or pastel-color gel pens to write over darker parts of your art.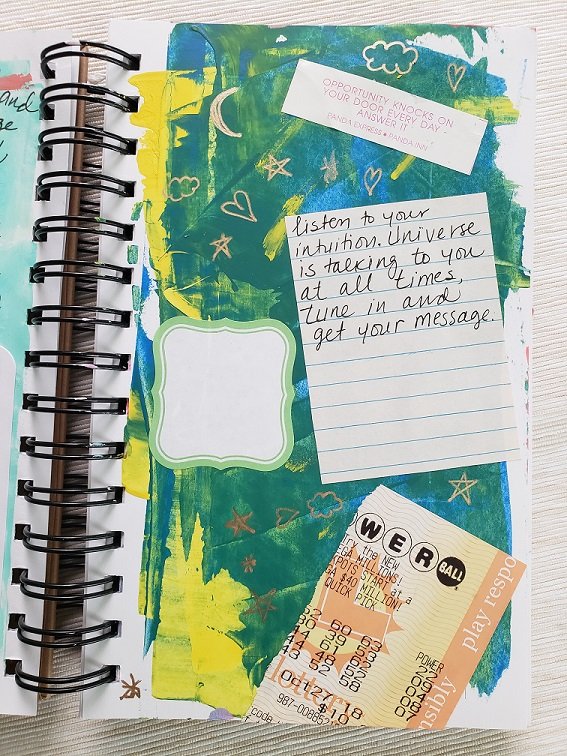 You can also glue on a small piece of a plain paper over your artwork to allow for notes and thoughts. You can shape it as a frame or a Polaroid photo, or you can tear it for a vintage look.
You can also chose to create art on every other page and write on the opposite page, or create blurb bubble in your art for your words, it's all up to you.
What is the purpose of mixed media art?
The purpose of mixed media art is to express yourself in an artistic way possible rather than be limited by just one type of media. Because of that, a mixed media art journal is amazing, as it lets you pour your ideas, feelings and creative expressions with no limits.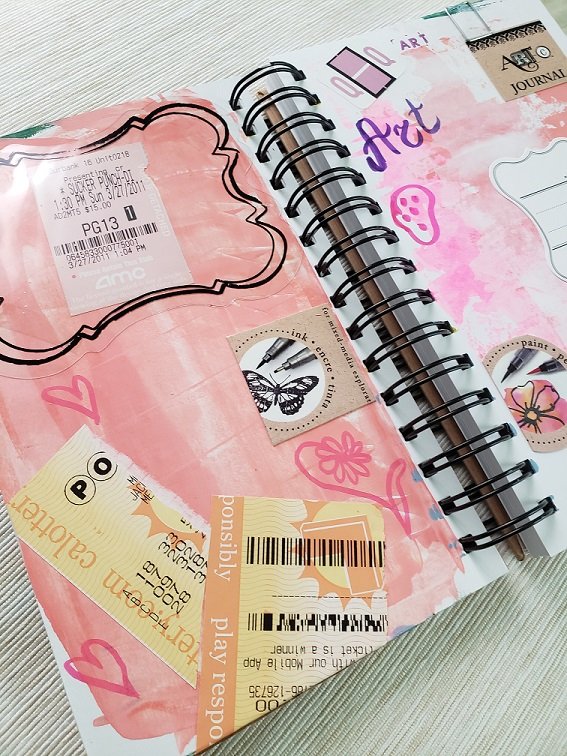 You can use one or combine five different art medias in one piece, letting your creativity fly.
Mixed media art journal is very freeing in that way which makes it that much more valuable as a tool to a creative person.
What is the difference between an art journal and a sketchbook?
From a first glance an art journal and a sketchbook might sounds like the same thing, but they are not.
A sketchbook is for sketches, quick ideas for an art piece jotted down, usually in pencil or in black/blue pen.
A sketchbook is usually monochromatic and uses only one type of art media to create it. It's also mostly just art, and not usually used to express thoughts, feelings or records daily happenings.
An art journal, on another hand is a combination of an art and journaling. The art pieces in it are usually complete, fully fleshed out works, often made in many colors, textures and mediums.
An art journal is also a journal and keeps recordings of the artist's daily life, impressions, thoughts, feeling and happenings. An art journal is an expressive and reflective tool, while a sketchbook is more of an art idea noting device.
What materials you need to start a Mixed Media Art Journaling?
A blank journal, from Moleskine to special art journals with thicker paper that is more watercolor friendly.
Journals used for mixed media art can be of any size. I have a small pocket-sized journal where I can sketch things in pencil while I'm out and about and have a minute. If I feel like it, I can use my color markers from Stabilo to color images in or add flourishes and accents.
Many artists use medium sized journals like Moleskine that they can through into their bag and have with them. These kinds of journals are portable enough to carry but offer enough room for an art-piece.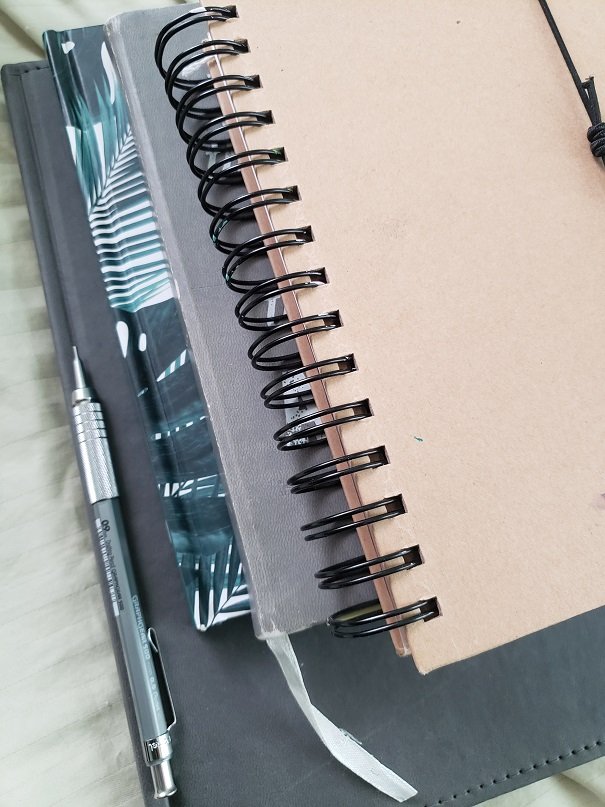 There are also coil-bound sketchbooks you can get at an art or craft store that come in all kinds of sizes and paper weight and are amazing for elaborate mixed media art journal project that involves a lot of different art medium, especially ones that are messy or require water. You can find these notebooks from Strathmore and Canson.
If you are adventurous, you can also create your own journal from loose paper sheets. Journaling in this way is very freeing as you can work with the canvas unobstructed by the binding.
You can create several art pieces, on your own or as a collab, and then sew, glue or rung-bind them together.
An assortment of art supplies. As the name implies, this type of journal marries many types of mediums in it.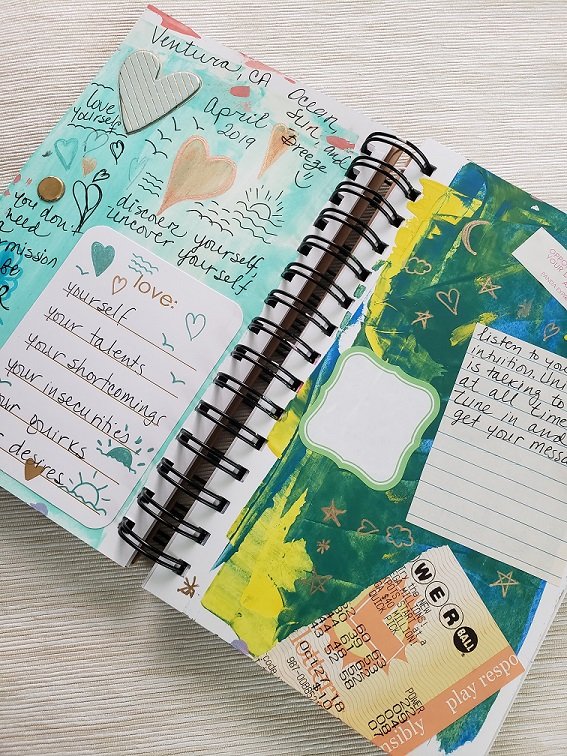 Collect mediums like water colors and pastels, chalks and graphite, pencils and acrylic paints, but also glue to hold down foil or fabric, cellophane or designer paper. Add in ink pens, markers, gel pens and glitter pens.
Fountain pens or calligraphy pens are awesome for adding some gorgeous writing. You can throw in some rhinestones, brass tacks or washi tape.
Collect some old ephemera like vintage newspaper or book pages, stamps, ticket stabs, etc.
What can I use for an art journal?
Since an art journal is an expressive tool, the material you can use for it are more unlimited than for a regular journal.
You can use blank or dotted notebooks that can be found in paper stores. Those are inexpensive and portable, but usually have a thin paper and might not handle the watercolors or alcohol-based markers really well.
Still they make great mixed media art journals for those on the go, especially if you stick to media like pastels, chalks, colored pencils, washi tapes, fine point markers, glitter, stamps and designer paper.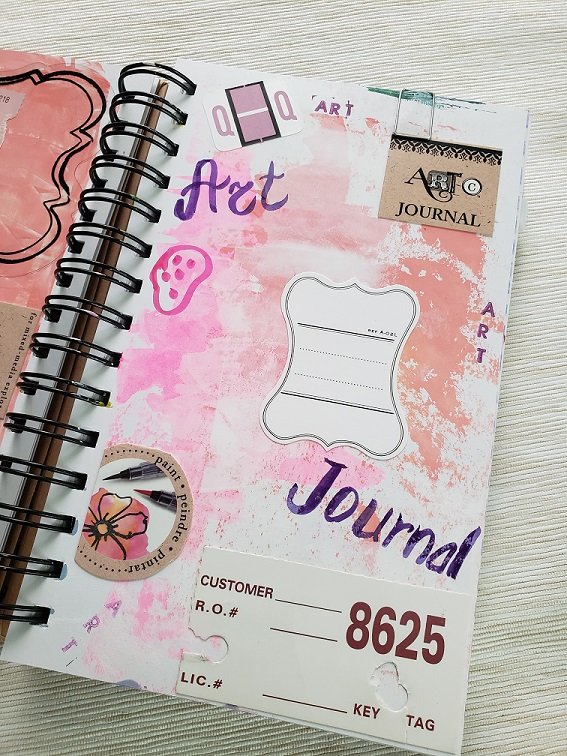 If you want to go all in with your art especially with liquid media like watercolors, calligraphy pens, juicy markers, acrylic paints and so on, you want to consider sketching notebook with heavy weight papers that are specifically designed just for that.
Arteza, Strathmore, Canson, Global Art Material and others offer wonderful notebooks, large and small for your paint-based mixed media art journals.
How do I start mixed media art journal?
Starting a new journal is always intimidating, especially one that houses art.
If you feel like you don't know where to start, think on these points:
Do you want this journal to be just for art or also for writing
What do you want a focus of the art journal be: is it to reflect on your day in a creative way, it is to create a series of related art pieces, is it to work on a particular skill, is it to try new or different art media every week
Decide on what art media you will use in your journal. Start with what you already have on hand and comfortable using if you are not sure, or decide on just two or three different media to reduce overwhelm
Decide on the size of the art journal. Are you going to journal at home, or while out and about? Are you a sketcher or a full on oil paint and glitter kind of artist
Decide on the type of paper you like to use. What weight, texture or shade of paper you enjoy using
If you still feel a bit scared by the project, decide on the first 7 art projects you will do in it and decide that they will be messy and imperfect. Know that no one will see them if you don't want to and that there are no mistakes in the mixed media art journals, just lessons and discoveries.