Traveler's Notebook (also referred to as TN) is an amazing modular journal that allows you mix and match different inserts and notebooks to create the journal that is perfect for everything you need it to do. Since the Traveler's Notebook became popular and the offerings for it seemed to pop up all over the place, you might wonder what types of Traveler's Journal are out there and where to get them.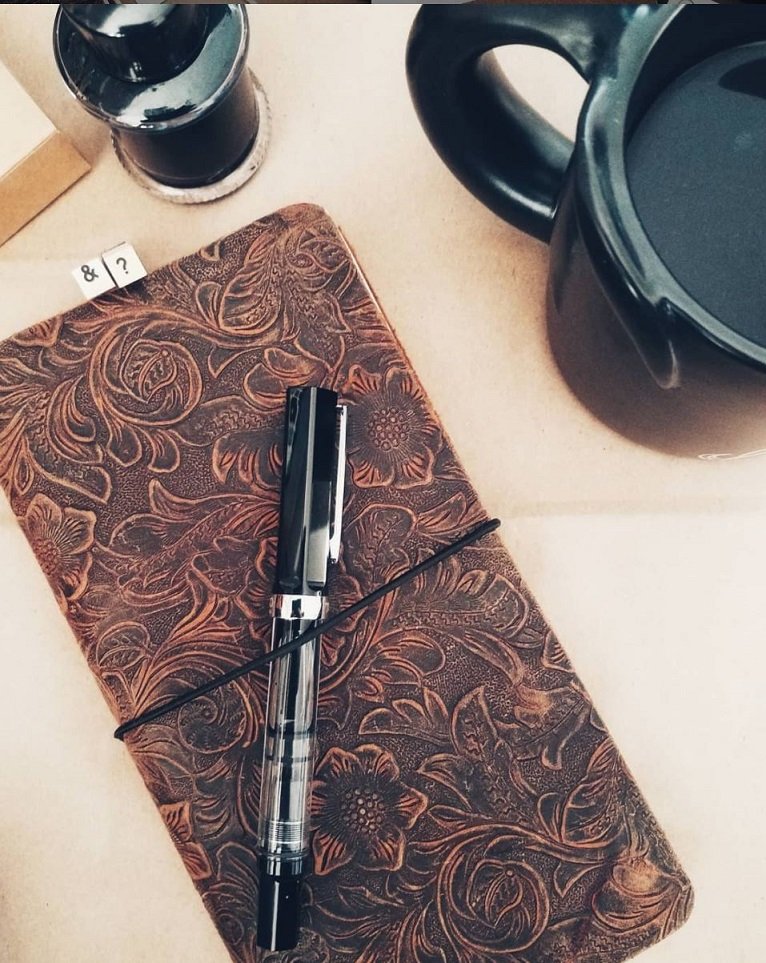 Here are some of the offerings for the original, genuine Traveler's Notebook along with inserts and accessories that fit them, as well as alternative traveler's journals, sometimes called faux-dori's that come in a variety of sizes and colors, sure to fit everyone's tastes.
Genuine Traveler's Notebook
The Journal Shop
The Journal Shop is located in the UK has an amazing assortment of the Traveler's Notebooks and TN accessories and inserts.
The Journal Shop carries the TN from Midori company (they have recently rebranded the Traveler's Journal arm of the company into a Travelers Company).
The Traveler's Journal is made out of genuine leather that will age as you use it. It will take on markings, scuffs and wear that will make it truly yours and give it even more classic look.
When you get the Traveler's Notebook from this store, you will receive it with a blank notebook insert included as well as with a spare elastic band to replace the original when it gets worn out.
You will also receive a cotton bag that the notebook can be stored in to protect the leather. Your notebook will come packaged in the brown cardboard packaging with the stamp of the Travelers Company and an insert.
You can get the leather cover in one of the three shades: black, chocolate brown and camel (cinnamon brown).
Because this notebook is made of real leather and comes from the original brand, it is sold for 48.99 British pounds or about $67.00.
The store also carries inserts and accessories like lined, grid, plain notebooks, daily diary, carton pockets, card file, zipper pocket, as well as connecting bands. You can also purchase the notebook in the Passport size as well as inserts and accessories in that size.
Tokyo Pen Shop
Don't get confused by the name. Tokyo Pen Shop is not located in Tokyo. This store is located in United States and carries pens and stationary from Japan for those who can't visit Japan themselves.
Among a lot of their fine offerings, they carry the original Midori Travelers Notebook.
They offer the starter kit Standard Size Midori that comes with:
a real leather cover in 3 different colors (black, chocolate brown and camel)
elastic bands for holding inserts and keeping the notebook shut closed
spare elastic to replace the original or use to add in more inserts at time
one blank insert notebook
cotton pouch to store the cover and prevent it from scratching or scuffing
And speaking of scuffing. Midori Traveler's Notebook leather cover is intended to be used, carried around, scratched, scuffed and worn. That is what gives it it's world-traveler well-loved look over time.
If you want your Traveler's Notebook to look like you have been around the world a time or dozen, don't be afraid to really use your notebook and don't try to protect it from wear.
The price for this genuine Midori Travelers Notebook from Tokyo Pen Shop is $57.40
The shop also carries an amazing variety of pens, markers, fountain pens, highlighters and pencils. They of course carry other notebooks, planners, pen cases and other really cool stuff.
Traveler's Company (USA)
What is the best place to get genuine Traveler's Notebook than from the Travelers Company themselves?
Traveler's Company USA is the US branch of the Traveler's Company, an arm of Midori that is dedicated to everything Traveler's journal. As such, the TN you get from them is as authentic of the Traveler's Notebook as you can find.
With the popularity of the Traveler's Journals, a lot of TN popped up on the market, some even claiming to be the genuine when they are not. So, if you are concerned with getting the actual TN, feel good about getting it from this website.
Since Traveler's Company USA is THE place to get the Traveler's Notebook, they carry additional cover colors compare to other stores. In addition to Black, Brown and Camel that you find at other retailers, you can also get a TN in Blue which is more like dark powder blue, or "azure blue sky" as the company's website describes it.
The Traveler's Notebook starter kit you get here comes with the same items you expect your genuine TN to come: the real leather cover, elastic bands threaded through the cover – one to hold the inserts and another to keep the notebook closed when not in use, a spare elastic band that you can use to replace the one comes threaded in the notebook as it wears out or you can use it to be able to keep several inserts in the cover.
The kit also comes with one blank insert notebook and a cotton bag to store your notebook.
As you can expect the Traveler's Company carries inserts and accessories of all kinds.
Inserts for Standard Traveler's Notebook you can find on the website:
Lined
Grid
Dot Grid
Blank
Diary
Sketch Paper Notebook
Lightweight Paper
Kraft Paper
Watercolor Paper
Monthly Diary
Weekly Diary
Folder
Sticky Notes
Card File
Connecting Rubber Bands
Paper Pocket (sticks on)
Card File
Zipper Case
Stickers
Repair Kit
Store carries the Traveler's Notebook of Passport size as well, they come in the same colors as the standard one, along with inserts that fit it. The website also offers the pens from the BRASS company as well as spiral ring notebooks and KRAFT envelopes.
The starter TN kit from the Traveler's Company USA website is $49.95.
Other places to get Traveler's Notebook:
Other great places to get the genuine Traveler's Notebooks (and accessories as well as gorgeous pens!) are: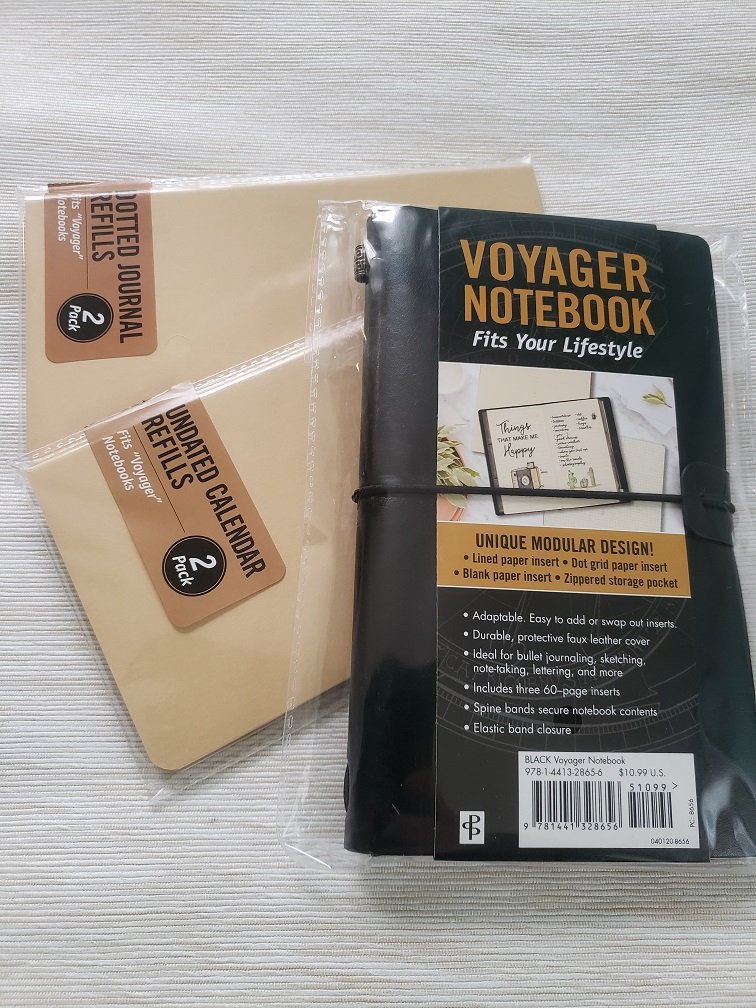 Other Traveler's Notebook Brand and Faux-dori
Chic Sparrow
If you love the idea of the Traveler's Notebook and the versatility of this system but wished it was in a different color, size or could fit more of the inserts, look no further than Chic Sparrow shop.
Founded in 2014, they've been delighting journal lovers with their gorgeous high quality leather Traveler's Notebook covers. They have 7 different models/styles of the covers and those models come in a variety of some pretty gorgeous colors.
Unlike on the original Traveler's Notebook, the leather on Chic Sparrow covers is treated to have a shine but more importantly be more scuff-resistant.
These covers come with additional strands of elastic threaded into the spine and often have the stitching around the edges of the cover giving it a pretty detail and often more sturdiness.
You can also have a personalized inscription pressed into leather on the back of the notebook in a variety of fonts, making this cover truly yours and one of a kind.
Many models come with pen loop and with a back and front pockets that are stitched to the inside of the cover of the notebook, and 4 to 6 strands of elastic so you can add the notebooks to your heart's content.
The covers come in 12 different sizes like Passport, Pocket, A6, A5, Personal, Wide and others.
As the variety of sizes, colors and different types of leather and finishes are available from Chic Sparrow, the prices of the covers vary from $30 to $90.
These covers might be pricier than others, but the craftsmanship is amazing and the come with many extras like front and back leather pockets, pen loop, stitching, customizations and a number of elastics to accommodate a bunch of your notebooks, making these covers a center and a brain of your journaling and planner life.
Michaels
If you want to stick to traditional Traveler's Notebook size and feel but not ready to part with 50 bucks to get the real deal, you have few options.
Michaels stores that carry many options for notebooks, journals and planners, also carry their offering for those who seek a more affordable TN.
Michaels carries Traveler's Notebook made by the planner company Recollections. The offer 4 different colors: Black, Blue (powder blue), Brown (like mocha) and Coral (light salmon).
The black version is made of black PU (polyurethane or faux) leather that has a nice old-world muted shine. The notebook is the classic cover with elastic bands inside to hold the inserts and another elastic band outside to keep the journal closed.
The TN comes also with two 30-page inserts made of plain paper and a file folder made out of brown paper with a pocket and slot to hold a card and such. And all of this is for $9.99 is amazing!
The brown version is similar as it is made from a faux leather in mocha brown to resemble a real leather. It has nice muted sheen and a texture like a real leather.
The powder blue and light salmon versions are really pretty and almost have the look of suede when you see them from afar, but they are also made from the smooth faux leather so should be able to handle the daily use well.
Michaels carries a few refills for these notebooks, but even if they didn't, not all is lost. The good news is that this notebook uses standard inserts, the same as the original Midori, so you are able to get them from other stores.
Peter Pauper Paper Company
Another budget-friendly offering comes from Peter Pauper Press. I love Peter Pauper because they are out there creating notebooks and other great stationery products that are affordable and are of great quality.
So, it comes as no surprise that Peter Pauper has their own version of the Traveler's Notebook that is called the Voyager Notebook.
Right along with Peter Pauper tradition it's super affordable at just $10.99 and comes with 3(!), yes 3 inserts (lined, dot grid and kraft paper) and a clear zip pouch.
You can't argue that this is an amazing value. The only thing you need to be aware of is that this notebook is slightly shorter than the classic Midori, so the refills that are made for the classic TN will not fit the Voyager. However, it's not a problem as Peter Pauper sells the insert refills for their notebook.
The Voyager Notebook comes in 6 beautiful colors: Black, Burgundy, Light Blue, Midnight Blue, Nutmeg and Pink.
The insert refills that Peter Pauper Press offers are:
Lined paper
Kraft paper
Graph paper
Dotted paper
Blank paper
Internet Password Organizer
Undated Calendar
You can purchase the Voyager from Amazon, Barnes and Noble and, of course, from Peter Pauper themselves.
Other places to get beautiful, Travelers Notebook-style covers are:
ETSY
If you are into completely custom, chunky, handmade covers and want to support a boutique maker, Etsy has a wonderful assortment of Traveler's Notebook covers.
Here are the stores that have amazing products:
BivioLab offers a super-chunky notebook cover that comes with 8 elastic bands and can fit at least 10 inserts! It comes in a ton of sizes with 16 colors and textures – there is literally something for everyone here and you can fit your whole life in one of these.
If you are into that classic thick tanned leather look but want to fit more of the inserts, InkitLeather have gorgeous notebook covers in colors like Black, Brown, Brandy and Espresso. These covers are GORGEOUS and they are available in 6 different sizes. They are designed to hold at least 4 to 6 inserts so you can have your lined and dotted and calendar inserts in there for all of your journaling needs.
If you don't care for leather cover (or its price-tag) and love fun floral motifs, go for a faux-dori, or a Traveler's Notebook that is made of fabric. ThePinkCowBoutique offers a ton of fun, happy and exciting cover fabrics in different colors and sizes. They will make you happy and excited to journal just from looking at them!
Available in 6 different sizes, they come in different colors on the inside and the outside of the cover and are super fun and stylish. Going for about $20, they often come with adorable charms attached to the enclosure elastic, or lace embellishment.
ButterflyNotebook is another shop that offers beautiful, colorful fabric faux-dori covers. They are really well-priced at $15 and up and often come with pen loops attached. The maker also offers an option of adding in the pockets on the inside of the covers to hold things like cards, receipts and so on. You can also personalize the cover.
As you can see, there is no shortage to the colors, materials and sizes of the traveler's journals.
If the original Traveler's Notebook is what you need, you can get it easily along with a wide variety of useful additions, accessories and inserts.
If you love the modular system that TN has to offer but would love a different size of the cover or want to fit in more of your notebooks, there are faux-doris or alternative traveler's journals to fit your fancy.
Use the list above to find just the right Traveler's Notebook for you.
Recent Posts