You need a journal, a notebook to, well, journal! And as awesome the journaling is, choosing and buying a new journal is the most fun part of it all. There are so many amazing journals to choose from, you can truly find just the perfect one. I truly believe that having the right notebook encourages and helps the process of journaling.
I will admit that I am a journal and notebook hoarder. There is literally not a notebook that I didn't like. And even when I still have a few empty notebooks waiting to be filled in, I can't help but buy another one.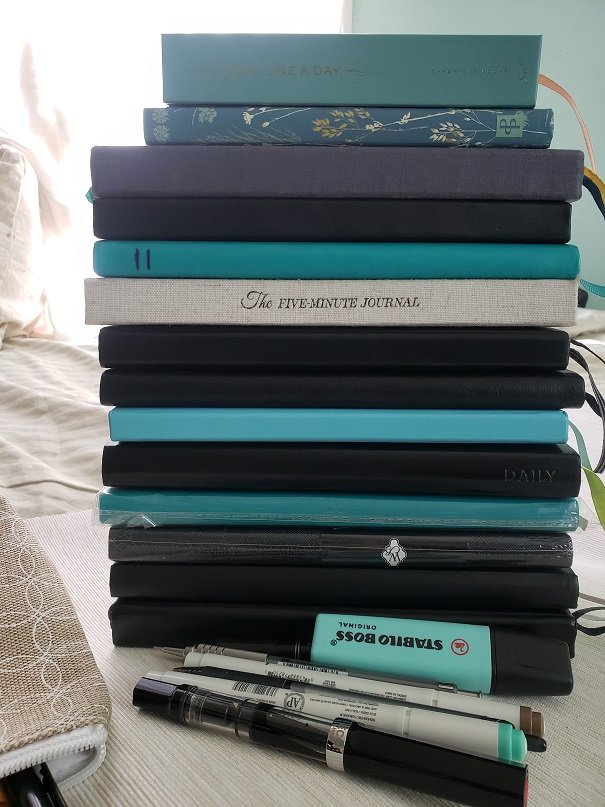 Here, I want to share the notebooks and journals that I currently love and use in hopes that it will make your process of finding the right notebook for you easier.
Blank Notebooks
Blank notebooks are the ultimate empty canvas letting your dreams fly, your thoughts spill onto pages and your art idea flourish unobstructed. Blank notebooks come in dotted, squared, lined and blank versions and each has its use. Here are some of the ones I use and love in my journaling practice.
Dot Grid Notebooks
If you are to take up Bullet Journaling, a dot grid notebook is a must. The Bullet Journal system was originally created to be used with a dot grid notebook and it naturally lands itself in a journal with that type of paper.
In this category I will recommend, naturally, the notebook that Ryder Carroll, the creator of the Bullet Journal system went with – the Leuchtturm1917 Dotted. Since Ryder worked with this company on developing the Bullet Journal, these notebooks come ready for the Bullet Journal system.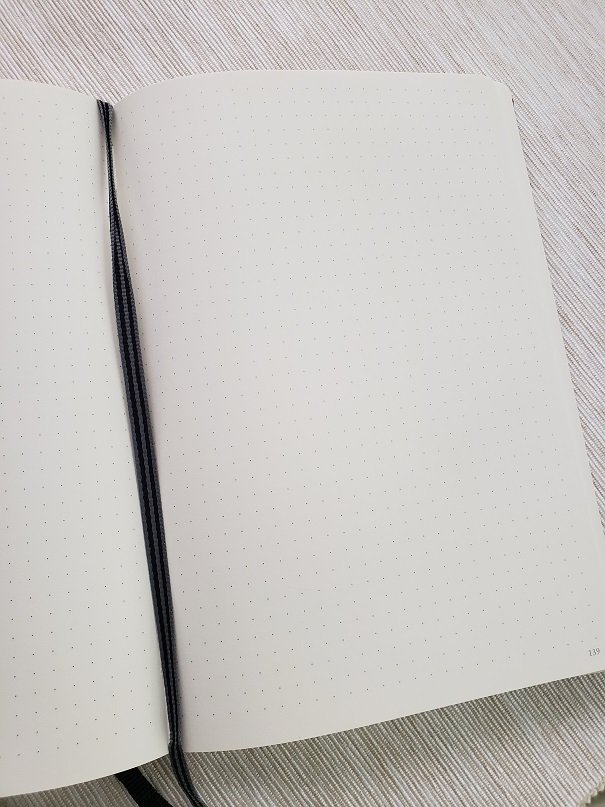 Each notebook has numbered pages, index page and two pagemarkers. If you to get the Leuchtturm1917 Dotted that was branded for Bullet Journal, you also get the key page and total of 3 page markers for the various places in your notebook you want to keep track of.
The newest, Bullet Journal 2.0 notebooks that you can get straight from BulletJournal.com now also has a guide, advanced page divider dots and a set of stickers. It also has a thicker, smoother gorgeous paper.
If you want to get something not as expensive as Leuchtturm1917 notebooks, BooQool makes great alternatives and their dotted notebooks come at about half the cost. Paperage and Wordsworth also make great dotted journals for a really good price (and Wordsworth comes with stickers!).
If you are ok with a soft cover, this simple dotted notebook with a pretty cover will only cost you about 6 bucks.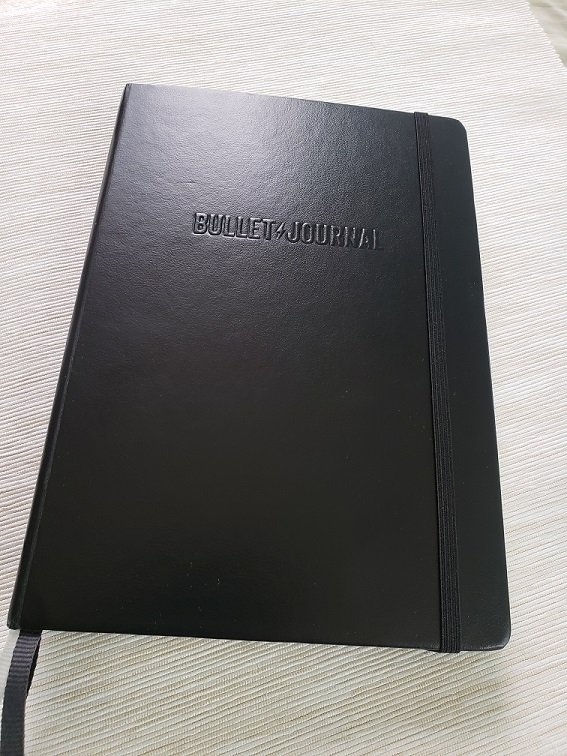 If you love bullet journaling but don't like the fact that you run out of a notebook at least twice a year, you can get a Littfun Bullet Dot Grid Journal that has 360 sheets of dotted paper and will last you the whole year long!
Graph Paper/Squared Notebooks
My next favorite type of notebook is the one with a graph paper. To me, it lends itself so well for a bullet journaling or any type of journaling where you are going to make a lot of lists, draw boxes and lines or if you are taking a class, especially in math or science.
Graph paper notebooks are also really great if you like to glue in photos, cards or other paper ephemera and love for all of those items to align well on the page.
To me, a math nerd, the graph paper brings so much order and calm into a notebook. Graph paper notebooks can also be great for food journals and budgeting journals where you often write the numbers and draw a lot of trackers.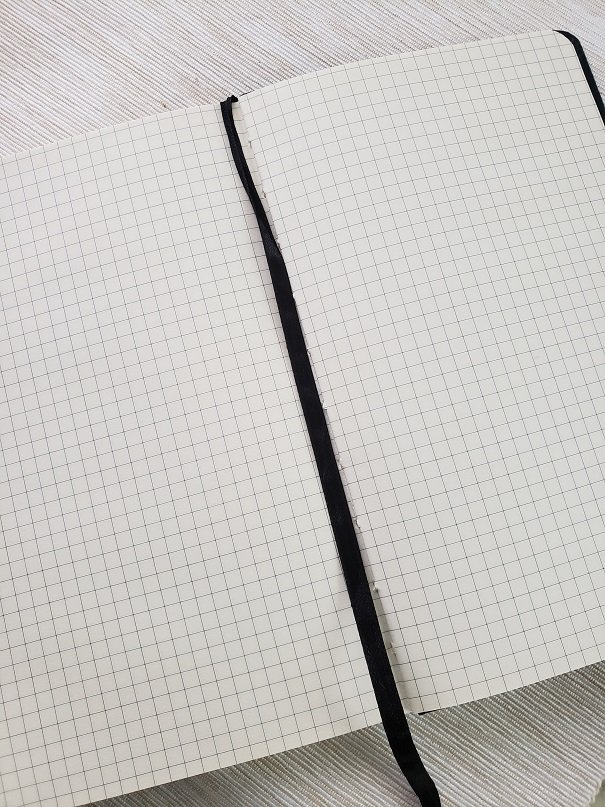 My favorite graph paper notebooks come from Moleskine, a classic in a journaling community. Just like other Moleskine notebooks, it comes with a page marker and elastic band to keep your notebook securely closed when not in use.
It also has a back pocket where you can put things like receipts and bills, especially if you are using this journal for budget journaling or meal planning.
Leuchtturm1917 also offers a squared paper notebook with the similar features, but it's a bit pricey and if you want to give the graph paper notebook a try but don't want to spend a whole lot, this simple graph notebook with a relaxing cover will cost you less than $6.
Lined Notebooks
When it comes to classic journaling, nothing is better than a lined paper notebook. Writing on a lined paper is so reminiscent of writing a letter to someone, it just lands itself so perfectly to journaling.
I personally love lined notebooks to write my daily thoughts, to process my emotions but also to write books long hand. Sometimes working a book can be intimidating, that cursor is blinking on the screen.
Paper journals are like old friends and are very forgiving. You can trust them with your stories and they won't judge (or underline that spelling error!).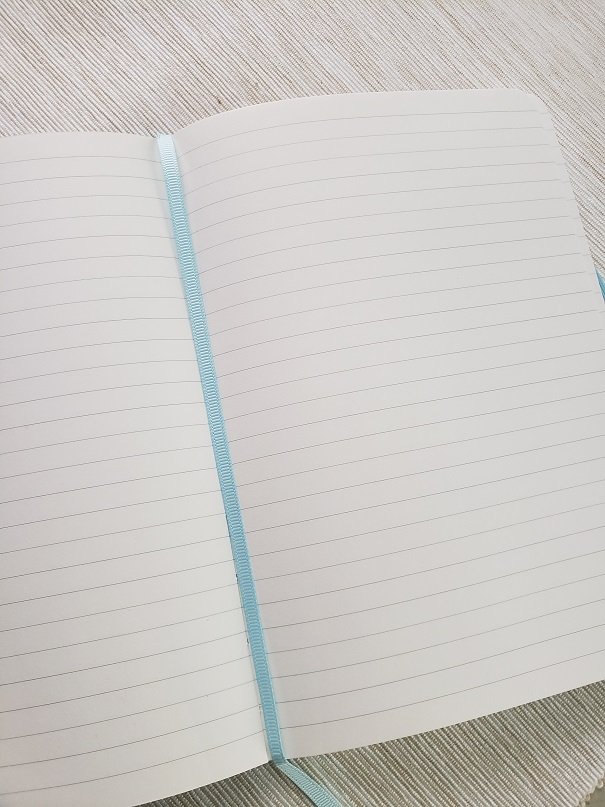 When it comes to lined notebooks, I don't overcomplicate things. Moleskine is such a go-to, there is no need to re-invent the wheel and the fact that it comes in so many sizes makes it easier to pick the size that works well for you.
I also believe that pretty notebooks make for a more exciting journaling and help you look forward to the writing time, so I'm always on lookout for a really pretty notebook with gorgeous art or antique, gold-gilded journal that simply screams Jane Eyre and writing by the candle with a fountain pen (ah, joy!).
When my heart calls out for a pretty notebook, I really like Victoria Journals that makes gorgeous notebooks with elaborate covers and even notebooks with lockets, perfect for a private diary!
Plain Paper Notebooks
I love structure in my notebooks and so I don't use the plain paper notebooks too often, but if you are a free spirit, or especially if you are looking to start an art journal, I would really recommend a notebook by Momenta Art-C.
I got this notebook at a craft conference I went to where I took an art journaling class.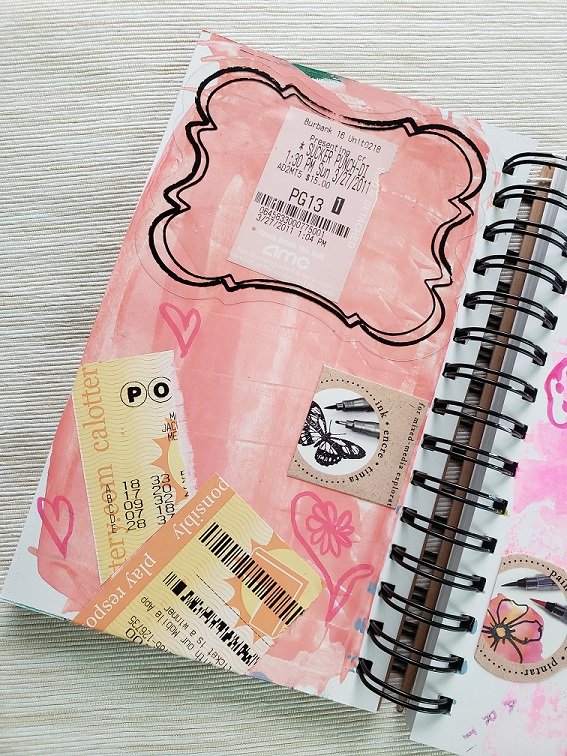 The notebook is phenomenal. First of all, it's coil bound so it opens flat – perfect for an art journal so you don't have to hold your pages down while you are also wrestling with water colors and glitter!
Second of all, it has like a million pockets and pouches where you can keep paper bits and bobs and all the ephemera you find along the way and want to use in your mixed media art journal.
It even has a plastic zip pouch for receipts or business cards. It has an elastic band to keep it closed, but the best part, it has a thick paper, that is a watercolor grade because I did a water color art on both side of the same page and nothing bled through!
I used this notebook for an art journaling, mixed media journaling and even for a portable vision board. The notebook is sturdy, portable but has enough space for your art journaling aspirations.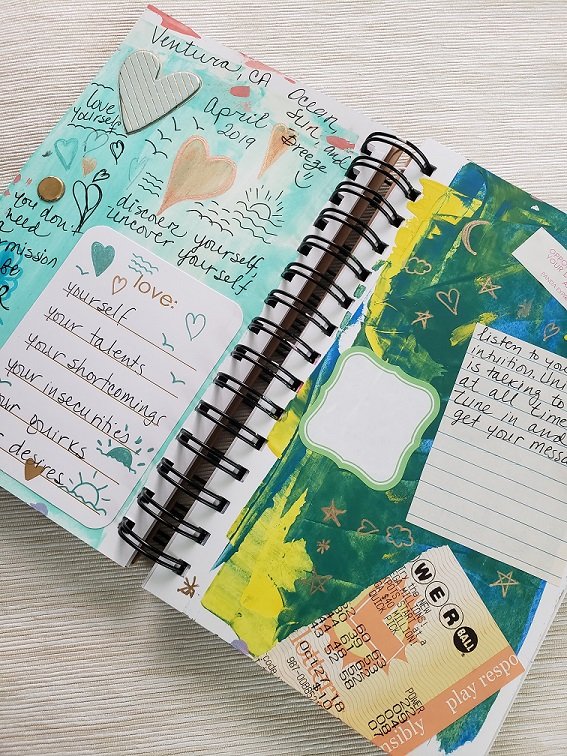 Travelers Notebooks
Travelers Notebooks (or TN) are in a class of their own. They are not just notebooks, they are a system of notebooks, a modular system that can have any kind of journal added to it.
The beauty of Travelers Notebook is that it can have dotted, lined, graphed or blanket insert in it – or all of them at the same time! If you can't decide what kind of paper you want in your journal, TN makes it super easy for you, you can have them all.
My favorite Travelers Notebook comes from ZLYC, a company I found on Amazon. Their traveling journal cover is beautiful, made out of stamped leather with gorgeous flowers on it.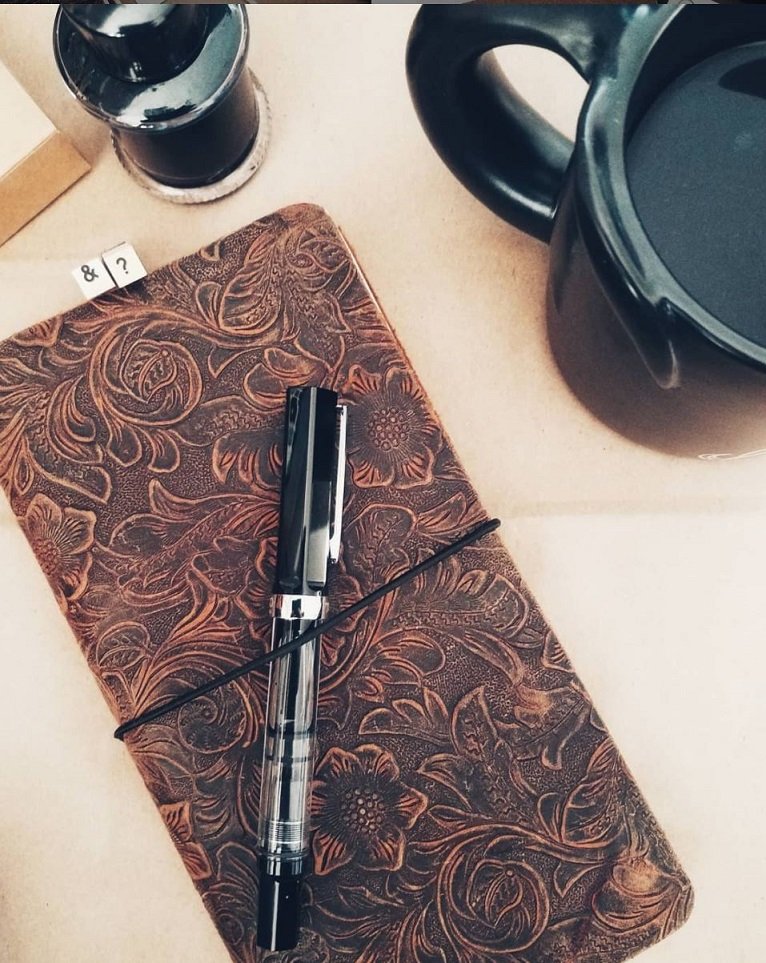 It features all the same features as the original Midori TN, but for about half the money! It came in a linen bag and boxed, perfect to give someone as a gift and the best part? It fits all the TN inserts on the market today.
My choice in getting it was easy.
I also have some traveler notebook covers of my own – my dad made those for me so I can swap them any time I want.
The Voyager by Peter Pauper
I also recently discovered that Peter Pauper paper company (who I love because they make great affordable notebooks) has a TN of their own.
It is called a Voyager Notebook and it's an amazing value for someone who wants to give TN a try but doesn't want to spend $50+ that the original Midori costs.
The Voyager is just over 10 bucks on Amazon and it comes with three (!) 60-page inserts and a zippered storage pocket. Talk about amazing!
Prefilled Journals
All the blank journals like the ones above offer a canvas that you can fill in the way your heart desires, be it a bullet journaling, tracking your budget, writing down your feelings or creating art.
However sometimes, especially when you are just starting out, a blank journal can be quite intimidating.
For such cases, prefilled journals are a great place to begin.
The Five Minute Journal
When I took up journaling a few years back, I did it for therapeutic purposes. I knew it would help me with stress and anxiety, but I didn't know where to start and what to journal about.
Someone suggested a Five Minute Journal. Already prefilled with prompts for the morning and evening, it had a structure to guide you and a promise of just 5 minutes to get it done.
It was a god-sent. Every morning I got up and filled out a few lines on gratitude and things I wanted to achieve along with affirmations, and at night I got to write about my successes and reflect. All in just few minutes. It made a huge difference in my day and allowed me to start and finish my day right.
Start Today Journal
Start Today Journal by Rachel Hollis is great prefilled journal for those who want to write their dreams into reality. It has a simple concept, but a powerful tool.
Working though the instructions in the beginning of the journal, you choose your top 10 dreams/goals for the next 10 years and then, on a daily basis, you list them down while focusing on one of them at the current time as if it is already happening.
By using the power of focus and visualization, the Start Today Journal help you re-confirm your dreams daily, remind yourself what you are going after and keep it top of mind.
Rachel herself says that you don't need to use her journal, and describes the concept in one of her podcast interviews, but her journals are pretty and already set up for you to use the journal as intended.
One Line a Day Journal
One Line a Day journal is exactly what it sounds like, you write just one line for each day. Just one most important thing, or memory or experience for each day of the year. It is a perfect journal for anyone who is either super intimidated to journal or doesn't have time for an elaborate journaling practice.
The One Line a Day journal I love is by Chronicle Books. It's very pretty, with a gold on the page edges and a bookmark. Since you only write 1 line a day, the journal, even though already pocket-sized, fits 5 years' worth of spaces. Imagine being able to reflect on five years of your most important thoughts and experiences all in one place?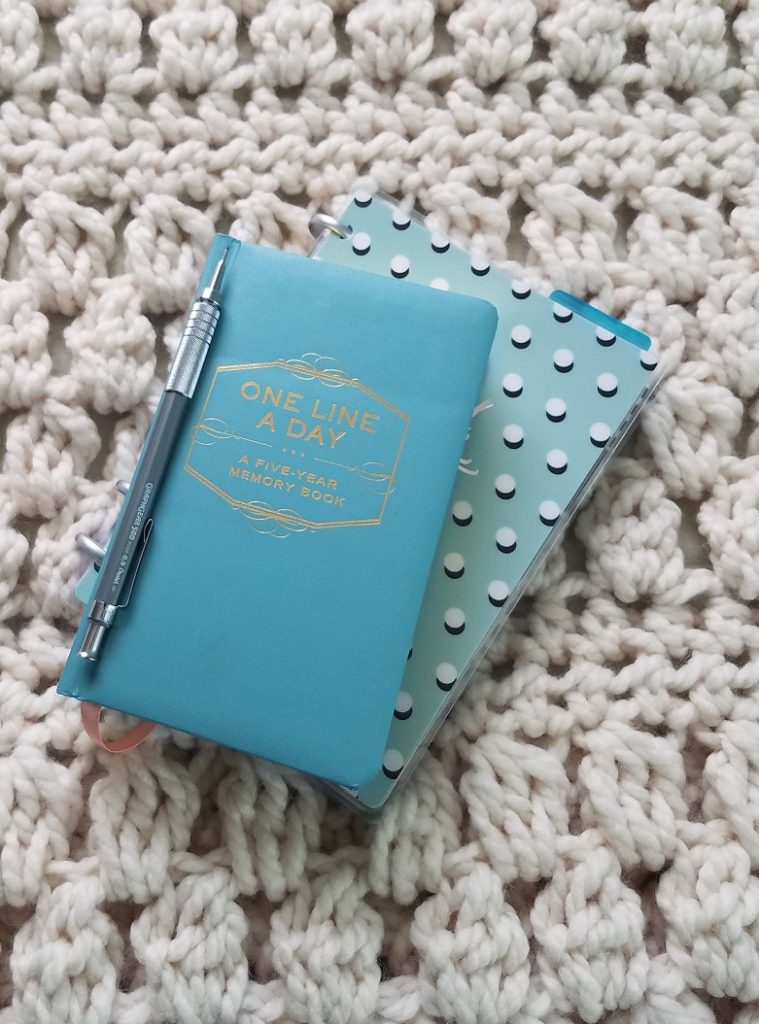 I really like the fact that this journal is small but impactful, making your journal practice easier while being easy to take with you or put away for privacy.