A junk journal can be thought of as a whimsical and adorable version of an art journal. It's a compilation of all the bits of life adorned with lace or fabric or book paper. Because of its funky nature you might wonder if there is a standard size that the junk journal should be.
What size is a junk journal? You often find that junk journals come in a size of 5"x 8" and that is because they are created using a standard notebook like Moleskin or Leuchtturm. However, this size is not a standard across all junk journals, since junk journals are also often made from scratch and can be any size the maker chooses.
Since it seems that there is no real standard on what the measurements of a junk journal should be, what size junk journal can you make?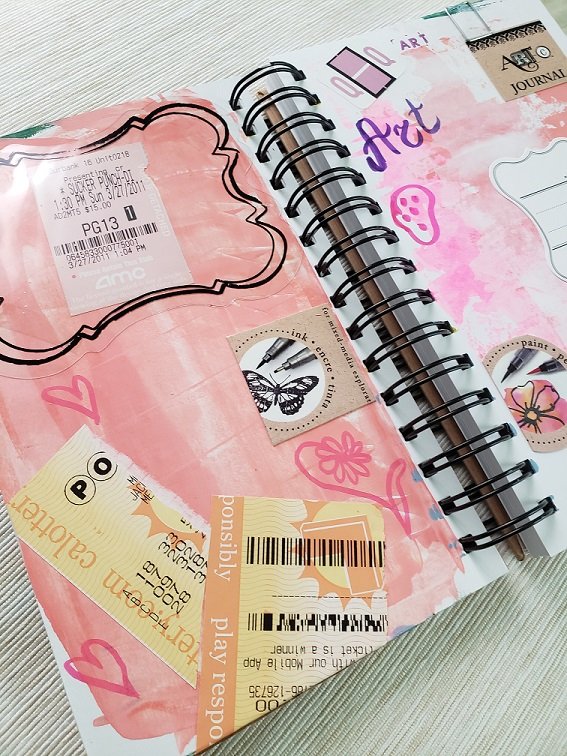 What Junk Journal sizes are most common?
From what I have seen, especially from the journals already premade and available for sale, the junk journals vary in sizes, but these are the ones I've come across:
3" X 4"
4" X 6"
4.25" X 5.5"
4.5" X 6.5"
5" x 7"
6" X 8"
6" X 9.5"
The two sizes come up the most are 3" X 4" and 4" X 6" for smaller journals and 5" X 7" for regular ones. Those are the sizes that you usually find in regular paper journal sizes so it only makes sense that junk journals would be of the similar size as this is most of the journalers are used to.
Other factors that affect your junk journal size
As much as you can make the junk journal of any size, there are some things that would rule over what size your junk journal might end up being.
If you are using a standard sized notebook, your junk journal will be of that exact size and those notebooks usually run the size of 5" X 7".
If you are making your own journal from scratch, your junk journal will often comply to whatever size cover you find. Since a lot of junk journals use book covers as their covers, your junk journal will be the size of that book cover and books also come is pretty standard sizes like 6" X 9".
Another thing to think of is the paper size you would use to fill the inside of the junk journal. Since most of the standard paper sizes are 8.5" X 11" or 11" X 17", your journal size would be that size folded in half or 4.25 X 5.5" or 5.5" X 8.5" (that is unless you want to be cutting every page to size you want – which is pretty labor intensive).
If you don't want to use a standard notebook or assemble the journal completely from scratch, you can also use the Traveler's Notebook inserts that are thin booklets and you can put 4 or 5 of those together to make a full journal. Those inserts come in sizes of 4.25" X 8.25" for the standard size and 3.5" x 4.5" for smaller passport size.
How can you make a junk journal?
To make your own junk journal, start with a notebook you already have. Any notebook size will do since you will be covering the pages with bits and bobs found around you.
Collect paper or even fabric memorabilia and even just paper things that look cool from around your house, your car, you purse, etc. You can also add any type of paper things you like in a craft store.
Nothing is off limit:
wrappers of yummy wafers or candies
beer or wine bottle labels from that fun evening bash with your besties
love notes from your significant other
tickets from the movie or concert or fundraiser that were so memorable
receipts and menus from those amazing restaurants you visited while away on a business trip
pretty journal cutouts that resonated with you and made you dream or smile
lace from your old dress that had so many memories
matchbox covers from every bar you went to last summer
maps of vacation spots or just really cool-looking old maps
old book pages that are yellow and weathered and have coffee stains on them
dry-clean receipts that had that cute note from the clerk that made you smile
Once you have all your supplies, get a paper glue of your choice and get to work.
There are no rules on how all these things can be arranged and put together, that is the fun part. Just arrange them like a fun mosaic of your life and don't hold back.
If you are too intimidated to start a junk journal and still unsure where to start, you can also get a starter kits for junk journals where the base of the journal is already made for you and all the supplies are provided, all you have to do is start putting it together.
What kind of junk journals are there?
The interesting nature of junk journals is that they are created from a proverbial "junk", the recycled materials, the leftovers of life, like bits of pretty wrapping paper something gave you, stabs to a movie you attended, a wrapper from a delicious candy you were introduced to, cereal box carton with a funny character, pamphlet from an exhibition you took your kid to and so on.
These things that we often find collecting dust around our homes or getting tossed can find second life in a junk journal, but most important, preserve those small memories that together build out our lives.
Because there are so many different things you can put into a junk journal, there are just as many different junk journals.
Junk journals start with regular notebooks getting embellished with bits of memorabilia found around us.
Next you can find junk journals where pages, still using the regular notebooks like Moleskine, completely covered in recycled or just fun ephemera like newspaper pages, book pages, maps, flyers, receipts from restaurants, stickies with love notes, ticket stabs and more.
Once the journaler gets comfortable embellishing the standard notebook pages, they are ready to jump beyond the standard sizes.
You can then see the junk journals that are assembled from individual pages that allow the full freedom of decorating with all the things. Once these pages are complete, they get handbound into a book. They can be sewn, glued or ring-bound together with colorful covers added.
These handmade journals can be or whatever size the original pages or bases were. They can be as small as pocket books and as big as wedding albums.
How the type of junk journal can affect its size
One last thing that can decide on what size your junk journal will be, is the purpose of the journal.
If your junk journal is all about travels and goes with you everywhere it would be a different size than a junk journal that has your family memorabilia and stays put at home.
Let's look at some roles junk journals can play in your life and what sizes would be suitable for them.
A pocket traveling junk journal – this would be your smallest size junk journal as it will be based on a pocket size notebook and will fit in your pocket. These measure 3.5" x 4.5".
A regular traveler's journal – this journal will be a taller, slightly bigger version of the one above and sill be portable enough, but now fit more of all the fun paper finds. These travelers journals are sized 4.25" X 8.25".
A regular daily journal or a planner – your junk journal can do more than one thing and serve as a place for your daily thoughts or plans. This type of junk journal most likely be based in a standard notebook like Leuchtturm1917 and be sized 5.75" X 8.25".
An art or mixed media art junk journal – junk journal can really be thought of as an art journal and can follow the art journal sizes. It can use standard notebooks like the daily journal above, or be based in an sketch book and follow its size. Art journals are sized anywhere around 4" X 6" all the way to 11" X 14".
A memory journal like a baby book or a wedding album – a junk journal that uses a blank baby book or a wedding journal as it's base would be one of the larger ones and usually landscape oriented. These kinds of journals would be sized around 8" X 11" all the way up to 12" X 16".
Junk journals are a fun and whimsical way to create using things found all around you. It allows you to preserve memories of the smallest things in your life without spending money on supplies since most of the supplies you need for your junk journal are all around you.
All you need is to decide what size your junk journal needs to be to fit all the memories you want to fit into it and I hope that his post gave you some ideas to get you started.
Recent Posts