Bullet Journaling is amazing since it needs only two things: a journal and a pen (or pencil). Still, if we are to be spend every day with our journal, we would like it to be good quality, joy to use and we would love to make it fun by embellishing it to reflect our personality and mood. At the same time, we don't want to go broke from buying all the fun supplies we can use with the Bullet Journal.
Here is the list of some cheap Bullet Journaling supplies that are doing amazing job but won't break the bank.
Notebooks
Bullet Journal practice starts with, well, a journal! Bullet Journaling uses a dot grid notebook that offers structure and flexibility to make it work for you.
The original Bullet Journal that was designed around leuchtturm1917 dotted notebook that has some additional features that are very useful.
It has numbered pages so you can keep track of the location of your specific notes. It has an Index page where you note down the number of pages for the specific portions of your journal which makes it easier to find them later, it has two pagemarker ribbons to keep your current place in the journal, it's thread bound so it lays flat when you write in it. It has a back pocket where you can store stickers or receipts, etc.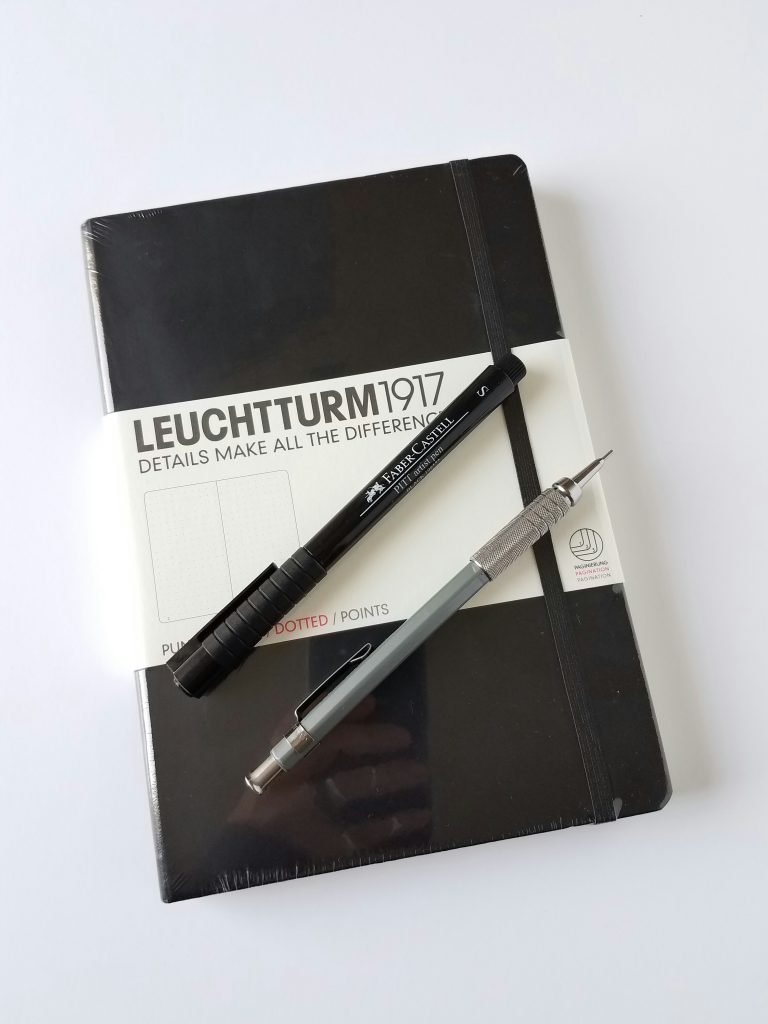 It has an acid-paper that doesn't bleed with most pens and won't hurt your photos (if you decided to attach some in). It also comes with an awesome touch as perforated detachable pages in the back and stickers to label the year/dates for your journal and such.
But, this notebook is around $20.00 and for some it can be pretty pricey, especially when just starting up. A well-known alternative is made by Moleskine that makes fantastic notebooks, but they are pricey as well.
What to do? Never fear, there are great notebooks available out there for the fraction of a cost that will do the job just right.
PAPERAGE
Paperage offers a great dotted notebook for half the cost leuchtturm1917 for $9.95. It has a lot of similar features: hard cover, ribbon closure, dotted acid-free paper, 1 ribbon pagemarker, back pocket and even a slot to hold a business card and it lays flat when you are writing in it.
WORDSWORTH & BLACK
Wordsworth & Black make really pretty notebooks priced at $14.95 and even though to some it might still seem a bit high, they come in a giftbox, made with attention to quality, hard cover, lay flat when open, with heavy quality paper, two bookmark ribbons, numbered pages, back pocket and a pen loop that most other notebooks are missing. They also come with a full sheet of stickers to use in your journal like appointments, reminders, birthdays and so on.
SIMPLY GENIUS
If you feel like you are really into Bullet Journaling but still on a budget, some companies offer a really good deal by selling notebooks in multi-packs that make each notebook very affordable. For example, iBayam sells a set of 10 notebooks for $49.95, making each notebook cost less than $5.00! Simply Genius offers a similar value for a 4-pack at $19.99.
Book stores like Barnes and Noble usually have a section dedicated to journaling supplies and you can often find an offering of several notebook brands there. Even though buying journals online is quick and convenient, sometimes you just want to go to a store and hold the notebook in your hands, see what your options or find something that really catches your eye.
Other great places to get your dotted bullet journal notebooks:
---
Pens
Fountain pens
The first thing that might come to your mind when you hear 'fountain pen' is "expensive". Fountain pens are a classic writing instrument that has been around for almost 200 years and its precursors, quills, been around for even longer than that.
We have heard of excellent pens like Montblanc that go for a price of $500.00 to as high as $4500.00 and so it's only natural to think that fountain pens are pricey and out of price range of many. It couldn't be further from the truth.
Over the years, a lot of great companies made a variety of fountain pens that are affordable. These pens offer a nice writing experience, solid design and plenty of supplies. You can find a great fountain pen for under $20.00 and even a few that way less than that.
Parker Pen Company, a well-known written instrument company producing luxury pens, offers this beautiful pen for only about $18, an amazing price for a great pen. You get a Parker product, get to write with a great fountain pen, all without breaking the bank.
Great thing about Parker Pen Company is that they offer not just a nice variety of pens for different tastes, but also supplies like ink and ink cartridges. They also offer useful tutorial on how to take good care of your fountain pen.
Pilot, another well-known company that sells its excellent pens worldwide and carries a mind-blowing variety of fountain, ink, gel, rollerball pens and markers, gives you a fantastic fountain pen for just $17.99. Pilot has luxury and everyday pens, and they are all great writing instruments.
Pilot Metropolitan series is meant to be a great fountain pen you can afford and enjoy writing. I have two of these in my own collection and they do a great job. They are smooth, easy to care for and come with ink cartridges that are a breeze to replace when the ink runs out. You can see a myriad of other fountain pens they carry on their website.
If you want to try Pilot, but not sure about 18 bucks for a pen, Pilot offers a Pilot Varsity pens that are disposable and come in a pack of 3 (!) for just $13.00. With these you get an advantage of having a fountain pen to try and to use and it's always filled with ink.
Once it runs out, you can toss it and move on to the next one in a different color. Once you get the hang of using a fountain pen, you can get a permanent refillable one, maybe even from Pilot themselves (Pilot Kakuno and Pilot Metropolitan series are great pens that are also affordable and write well).
Another company that offers a set of very affordable fountain pens is Zebra. I love Zebra products because they are great quality and are affordable, and these pens are no an exception. You can get a set of 7, yes 7 pens for just $15.21. Talk about an amazing value!
Other great and very affordable fountain pens are:
Lanxivi offers a set of 3 pens for $16.99
Pilot has another great pen from Kakuno series for $12.15
Amazon has its own take on an affordable fountain pen at $10.49
BEILUNER offers a beautiful luxury pen that also comes with 3 ink cartridges, ink converter and a gift case, all for just $13.59
---
Ballpoint and Rollerball pens
There is no shortage of great ball point pens on the market today, and it makes it so hard to choose one! The best part is that the pens are inexpensive and you can try one and then another till you find the one that's just right for you.
Ballpoint Pens
My favorites are Zebra Z-Grip Retractable pen, Paper Mate InkJoy 300RT and uni-ball JETSTREAM.
ZEBRA Z-Grip
Zebra makes some of my favorite pens and markers and the quality is always there. Their Z-Grip retractable pens are smooth, the ink comes out nice and dark, and they come at a great price of 24 pens for just about $9.00.
uni-ball JETSTREAM
Another favorite of mine for many years now is uni-ball JETSTREAM series pens. They come in a couple different versions, but my total favorite is the BOLD variety. The ink is unbelievably smooth, allowing you to write quickly with no smudges and you can get a pack with 3 different colors for under $10.00.
Paper Mate InkJoy 300RT
Next on the list of absolute awesome pens is Paper Mate InkJoy 300RT. Delivering smooth, dark and consistent writing experience, this pen is always in my pen pouch. I like getting one in a Medium thickness since I write medium to large, but if Fine points is your thing, it will serve you just as well. And how awesome that you can get a 12-pack of these awesome pens for only about $5.00!
Rollerball Pens
Pilot Precise V5 RT is absolutely, no questions asked my favorite rollerball pen. I love that the ink comes out at the nice rate where it gives a very smooth, even experience when writing and at the same time, it dries fast enough so it doesn't smudge. The pens gives you consistent lines that are dark but don't bleed through paper.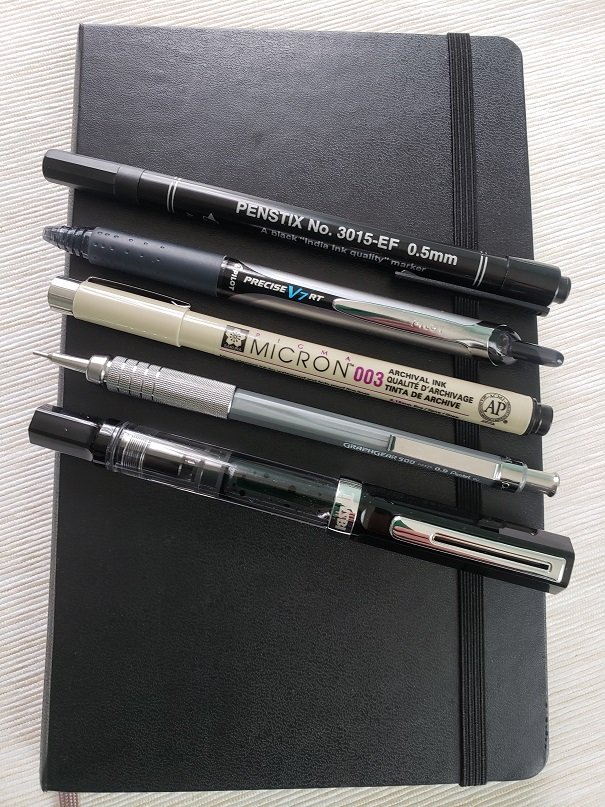 With rollerball pens, my main concern is that the ink is liquid and can't smudge. A lot of pens come with fine points to address that concern, but then they end up too scratchy.
Pilot Precise V5 RT
Pilot Precise V5 RT gets these issues right. There is no scratchy feel when you write with this pen, and so ink splats either, just very nice, smooth feeling with clean and clear dark lines. You can get a 3-pack of Pilot Precise V5 RT for about $7.00.
---
Markers
Markers are a fantastic addition for your Bullet Journal practice because they come in large sets, offer many colors, bring liveliness and fun to the pages and often are very affordable. Here are some of my favorites.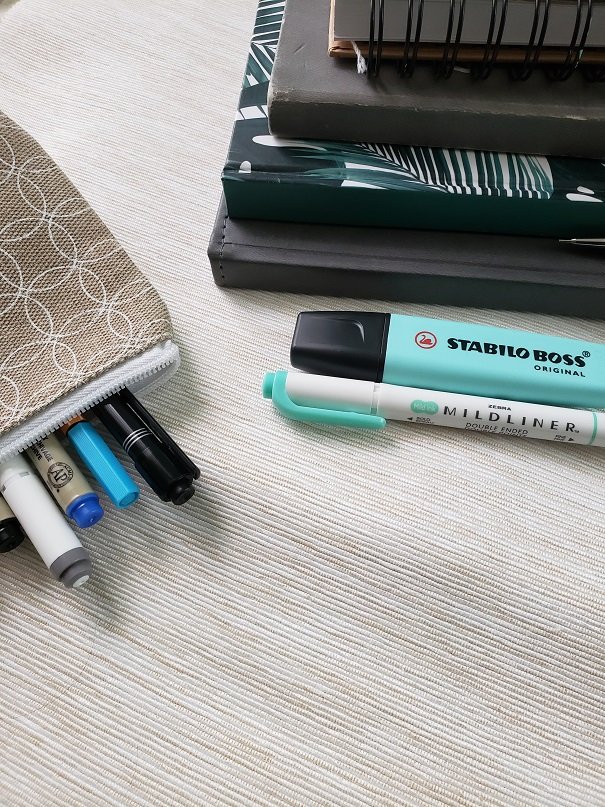 ZEBRA Midliner
I love Zebra brand, especially their pastel markers. The come in great assortment of colors, you can use them to get a light color or a darker one if you apply it more times. They don't bleed on most papers and create a nice touch for your entries without being imposing. Here is the set of 15 beautiful markers for just $13.59.
ARTEZA Highlighter
Arteza is another well-known brand and if you are into highlighters and neon colors, this company offers a very affordable set of 30 highlighters in 6 colors for only $12.99.
TOMBOW TwinTone
Tombow is a brand that is used widely, especially for those who create marker art. They have a variety of products in absolutely gorgeous sets of colors. If you want to add some pretty pastels to your Bullet Journal practice, consider this Tombow TwinTone Marker set of 12 for very affordable $9.80.
STABILO Swing Cool
Stabilo makes my favorite fine-tip markers, but they also make my favorite chisel tip markers in pastels. They have a very nice set of 6 colors of highlight markers from Swing Cool line and they only cost $8.70.
Other great and very affordable markers are:
Sunacme 24 Colors Dual Tip Brush Pen Art Markers for $3.99
iBayam Journal Planner Pens set of 18 for $7.99
Darnassus 48 Colors Dual Tip Art Markers for $17.99
Tanmit Dual Tip Brush Marker Pens set of 36 for $12.99
---
Stencils:
An easy way to make your journal entries fun are with lines, arrow or cute doodles. If you are not brave enough to add these things into your notebook by hand, there is always a great stencil to help you out. Giving you a nice set of lines, arrows, symbols and so on, it gives you confidence with decorating your journal, makes practice enjoyable and brings consistency to your journal entries.
PETER PAUPER Metal Stencil Bookmark
I use and really love Metal Stencil Bookmark by Peter Pauper (and I love their paper products too!). It's a stencil, it's a bookmark and it's exactly as tall as A5 page so it won't stick outside of your notebook when you carry them together so you don't have to worry about it getting bent or caught on something.
It has an inch and centimeter grids so you can also use it as a ruler. It comes with a clear holster if you want to carry it on its own. And the best part? It's only $4.95!
Mr. Pen
If you really want to go to town with stencils, companies like Mr. Pen have sets of vinyl stencils that give you dozens of different images, borders, letters, shapes and symbols, all for just $6.99!
Mandala Stencils
To embellish your Bullet Journal with beautiful mandalas, consider getting a set of 25 different mandala stencils and this awesome set will only cost you $9.99. These stencils are pretty large and will cover most of the page and they are great to use in other part of your life to stencil mandalas onto walls, stepping stones, framed canvases.
For the most complete set of different fonts and also a ton of images, get a set of 25 stencils that have 12 different alphabet sets, days of the week, months, banners, shapes, animals, plants, flourishes and so much more. The set is available for an amazing $10.99.
And if you are really into ALL THE FONTS, a 36 piece alphabet stencil set is the thing for you.
---
Washi tapes:
Washi tapes are those fun embellishment tools that are super inexpensive, super colorful and come in the great variety, user and paper-friendly and go on for miles (ok, yards).
Washi tapes made their way from Japan a few years ago and stuck around because they are so fun, colorful and offer million possibilities! A roll of washi tape is usually about 6 to 9 feet long and you only need a few inches to give your BuJo page a pop so each little roll will serve you for a while.
Washi tapes are sold individually and in sets. The sets are the best way to get them. Why sets? The tapes in the set usually come as a color-coordinated group so you don't have to worry about matching the tapes yourself for a great look, they are usually made of same type of paper so you have a cohesive look and feel on your page and, of course, the sets are priced better than individual rolls.
Depending on the width of the rolls or the complexity of the design, you can get a set where each roll will end up costing you a $1.00 or less.
Like this cute pastel set of 10 rolls for only $6.99
Or this gorgeous Kyoto design set of 12 of $13.95
When designing the tapes, you can use just a single color in combination with pens and markers, or can apply two or more complimenting washi tapes together mimicking a collage. The design is up to you, requires no glue or water and leaves zero mess!
You can find more washi tapes on:
---
Scrapbooking paper:
Another inexpensive but a very beautiful way to give your BuJo pages more life and oomph is scrapbooking paper.
Since the scrapbooking industry has been around for a while, they have an enormous variety of offerings and places where you can get some great deals on very pretty and creative decorative paper for your journal.
You can use scrapbooking paper as a background strip for your headers when you create your Future Log, Monthly or Weekly spreads. You can use they scrapbooking paper as a background for your various habit and project trackers. You can even use the paper to completely cover the page and create a nice backdrop for photos, quotes, notes, recipes and so much more.
The beauty of scrapbook paper is that you don't need that much of it for each page, you can buy it in individual sheets that you can often find at just a $0.25 each, or you can buy whole pack of color coordinated pages that give you a great deal per page.
The places where I usually get the scrapbook paper:
Michaels Craft Stores
The offer individual pages of paper, paper sets and Pro Packs. You can get individual sheets for about $0.50 each (or less when on sale), tear off paper pads of various color complimenting with 58 sheets at $9.99 (like this pastel set) or a 48 page Pro Pack of scrapbook paper of antiqued music notes by Recollection for $25.92.
Michaels often offers 20% off coupons and has seasonal sales when you can get an even greater deal on your journaling and scrapbooking needs.
Amazon
The Amazon Marketplace is home to a large numbers of sellers who carry an impressible number of offerings, varied in themes and prices. You can find really creative and very affordable sets of scrapbooking paper, even if you are just starting out and don't want to go into debt with your purchases.
Just look at this amazing set of really beautiful scrapbook paper to use in your Bullet Journal with 50 sheets of different designs for only $5.88.
Each sheet is the standard 12" x 12" which means this paper will last you forever. This paper is also great if you have a mixed media art journal. This way, if you buy a pack of the paper, you can use it in your Bullet Journal and in your art journal.
Another great set I can across is the set of smaller 6" x 6" sheets but in 16 different gorgeous patterns that are all color coordinated. The set costs $14.95 but it comes with 64 sheets.
Staples
Staples and other office supply stores carry decorative paper. They offer things like this mega-beast of a decorative paper pack that has 192 (!!!) sheets just for $21.99.
And if this amazing deal is still a tad too high for your budget, they have a super fun and creative paper set from Shizen that are made from recycled paper coming from Thailand and India that is sold by pound. A pack with beautiful colors designs and amazing variety costs $15. 79.
Walmart
Walmart has a pretty impressive offering of scrapbook papers in a range of prices. How about this gorgeous ocean-themed set of 50 pages with 25 designs included for just $5.88.
Target
Stores like Target also carry limited offerings of scrapbook paper so it's a good idea to check there as well.
As you can see, you can give your Bullet Journal a very unique and cohesive look by using a variety of decorative supplies that are available online or in the store near you. The best part? They don't have to be expensive to last you a long time and do a great job. Explore the cheap Bullet Journal supplies above and see how you can make your Bullet Journal a reflection of real you and help you look forward to your daily BuJo practice.
Recent Posts