The Travelers Notebook is a modular journaling system that is made of the cover, elastic bands and inserts. When it comes to the cover, what do you need to know to choose the right one?
Traditionally the Travelers Notebook cover is made out of real leather which give the journal a very grounded, old-world traveler feel. The leather ages as the journal is used and the more it is used, the more of a character the cover takes on. Some covers are distressed on purpose with the coffee cup stains or pen ink splatters to give them an additional charm
Cover has a several hole punched into it for threading the elastics that hold the inserts and the elastic that hold the notebook shut.
Often, the company or the owner stamps the signet or a stamp or initials into the front of back of the notebook for identification.
Some covers have a tin "bead" or a clasp that covers the ends of elastic for posterity and adds a bit if a decorative quality to the notebooks.
Some makers also attach a pen holder loop to the back side of the cover. It can be either sewn on or punched together with a brass tack. The pen holder loop can be made of thick sturdy elastic or a piece of matching leather.
When you receive the notebook, the cover often comes placed into a cotton fabric pouch to preserve the cover from scratching while it's being handles, but also to let the leather breathe while it's stored.
Once you get it, it's up to you if you continue placing your TN back into it when not in use to keep it as pristine as possible or use it for something else and let the leather cover take the beating over time and gain that weathered, well-loved look.
If you want the cover to stay as scratch-less as possible, you can use solution like a mink oil to polish the leather and make the color more darker and hide any time scratches you might have accidentally picked up here and there.
What travelers notebook cover sizes are there?
The Travelers Notebooks covers come in a variety of sizes to fit different inserts and different needs. Since the covers are made by the companies like Midori or Field Notes as well as individual makers the sizes of the covers, even though following somewhat standard measurement differ slightly from each other.
In addition to that, many makers offer alternative cover sizes, covers that are wider to allow for more inserts or even notebooks to fit inside.
Here are the sizes of the covers you would find the most. These don't include extra-wide covers.
Common TN cover sizes
Standard (narrow Midori) 4.76″ x 8.74″. Open cover measure 10.11″ x 8.74″. Fits an insert sized 4.25″ X 8.25″
Passport (Midori) 3.93″ x 5.39″. Open cover measures 8.46″ x 5.39″. Created to hold the passport and an insert of 3.5" X 4.8" or 3.5" X 5".
Field Notes (or Pocket) 3.97″ x 5.98″. Open cover measures 8.54″ x 5.98″. Fits inserts that measure 3.5" X 5.5".
Other TN cover sizes:
Micro (or nano) uses inserts sized 2.75" X 4" or 3" X 4"
A5 (half the size of A4) 6.29" X 8.74". Open measurements 13.26″ x 8.74″. Fits A5 notebooks like Leuchtturm1917, Moleskine and inserts that are 5.83" X 8.27" or inserts sized 5.4" X 8.25".
A6 4.13" X 5.83". Fits inserts sized 4" X 5.75"
B5 (extra-large) 7.87" X 10.31". Open cover measures 16.41″ x 10.31″. Fits compositions books, B5-sized notebooks.
B6 Insert sizes 5" X 7"
Personal (Filofax) Uses inserts sizes of 3.75" X 6.75"
Large (or wide) 5" X 8.25" Fits Moleskine Large size notebooks
Extra Wide Midori
When considering a cover size, especially if this is your second or third TN, keep in mind any unused inserts you might have and would you be able to use them in your new cover.
Since more companies now make TN covers, there might a slight difference in sizes from one to another and your existing supplies might not work.
You can also go up in size purposely because you want to be able to fit more inserts into your TN, or you want to be able to fit bigger, regular notebooks into the cover.
What TN cover size is the best for you?
Some of the things you want to consider when deciding which TN cover size is perfect for you are:
What are you planning to use the notebook for

Standard TN uses 2-3 inserts – if you are happy with that, you can get a standard size

If you want to hold more inserts, you might want to consider that covers that are wider and fit all the inserts you need

If you want it to be the center of your life and hold not just regular inserts but also notebooks or composition books, you need the cover that can accommodate those

If you want it to be a pocket companion of yours to go with you and hold quick notes and such, consider getting the passport TN

If you are used to Filofax system and love their insert, chose the Personal size TN

Do you have notebooks or inserts that you like and want to use inside your TN – If you already have a bunch of notebooks that you want to use inside of your TN cover, look for the cover that is wide and tall enough to fit these notebooks
Are you planning on buying inserts or making your own? Making your own would mean you will most likely be using regular or legal paper sheets folded and half (unless you want to cut it to size every time). If you are going to make your own – consider the TN cover that fits that size of pages.
What are the TN covers made from?
Classic TN Midori cover was made from leather and, traditionally, most of TN covers you can buy would be made of leather. Leather is a beautiful material that is sturdy, looks really classy and can age beautifully with your using it.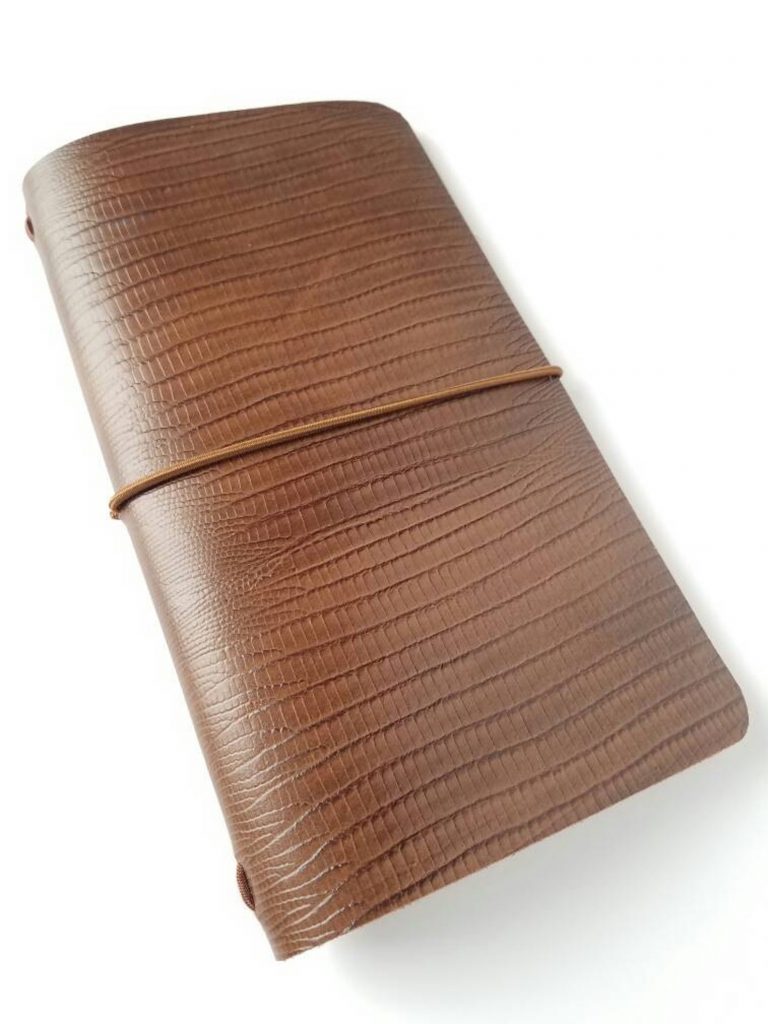 However, leather is not the only material TN covers can be made of. There are a number of Faux-doris, as they are often called which covers are made from things like faux leather, cardboard covered in beautiful fabrics as well is recycled old book covers adapted to TN style of design.
You can buy leather as well as the pleather or fabric covers on Etsy, Ebay or a wide variety of online shops as well as make one yourself.
How do you make a fabric Traveler's Notebook?
Of all the DYI TN covers, the one that is the easiest to make is the fabric one. Almost everyone has a small swatch of fabric at home (or a no longer used garment that can be repurposed). Even if you don't, fabrics are really inexpensive and come in glorious variety of colors and designs.
All you would need is some cardboard or a thick piece of carton, spray fabric glue and elastic.
Using the standard measurements for the cover size you desire, cut out the cardboard. Next cut out the fabric to be as big as the cardboard with the extra .5-1 inch of fabric on every side.
Iron out the piece of fabric to make it nice and smooth and make it easier to work with.
Spray the carboard with fabric glue, place the fabric over it, making sure that the extra fabric is left all around. Fold that extra fabric over, covering the edges.
Using a plain sheet of construction paper in a complimenting color, cover the inside of the cover, hiding the cut off edges of the fabric underneath them. Glue everything in place and leave to dry.
Once everything is dry, make holes in the spine, thread and tie the elastic. Make another hole in the back cover and thread a loop that will hold the TN closed shut.
And you are done!
Here is a handy video on one of the ways of making a fabric TN cover:
What are the measurements for a DYI Travelers Notebook cover?
If the thought of making your own cover excites you, place find a handy chart of sizes of the covers (when open) so you can pick and make one that works for you.
## Create a chart of cover sizes ##
Where can you buy the TN covers?
There are several places that sell beautiful quality travelers notebook covers:
Travelers Notebook starts with its cover, after all that is the first thing you see. Having a beautiful cover that pleases your eye as well as fits just the notebooks you need is important. A good TN cover will withstand the test of time, serve you well and age beautifully.
Recent Posts